With over 60,000 lakes, reservoirs and ponds in the state, boating in Ohio is one of the Midwest's favorite pass times. From Lake Erie to the Miami River, Ohio has tons of options for boaters, water skiers and swimmers alike. The way we see it, there's nothing quite as great as spending a boat day on Ohio's sparkling waters – but, do you need a license to drive a boat in Ohio?
When it comes to boating legally in Ohio, there are several rules and regulations you'll need to follow. This includes boater education requirements for getting on the water. We're telling you what you need to know with our guide to Ohio boating. So, have fun out there — and wear a lifejacket!
Do I need a license to drive a boat in Ohio?
In the State of Ohio, you do not need an additional boating license to drive a boat. However, most boaters in the state are required to complete a boater education course, pass a proficiency examination approved by the ODNR Division of Watercraft and obtain documentation of the boating education requirement. Regardless of your education requirements, all Ohio boaters are required to follow the rules of the water and become proficient in boating and watercraft safety.
What are the age requirements to drive a boat in Ohio?
There are certain age requirements for boat and personal watercraft operators. Anyone under the age of 16 may not operate a personal watercraft without supervision from an adult who has completed the necessary boater education requirements. While anyone under the age of 12 may not operate a power craft above 10 horsepower without direct supervision from an adult. This supervising adult must also have completed the necessary boater education requirements.
To legally operate a boat with 10 horsepower or greater in Ohio, a boater education card is required for:
Any person born on or after January 1, 1982
What are the fines/penalties for driving a boat without a license in Ohio?
Ohio boaters caught not complying with the boating safety education requirements could face a fine of up to $250.
What types of boats need a licensed driver in Ohio?
In Ohio, anyone born on or after January 1, 1982, must obtain a boater education card to operate a boat with a horsepower of 10 or greater.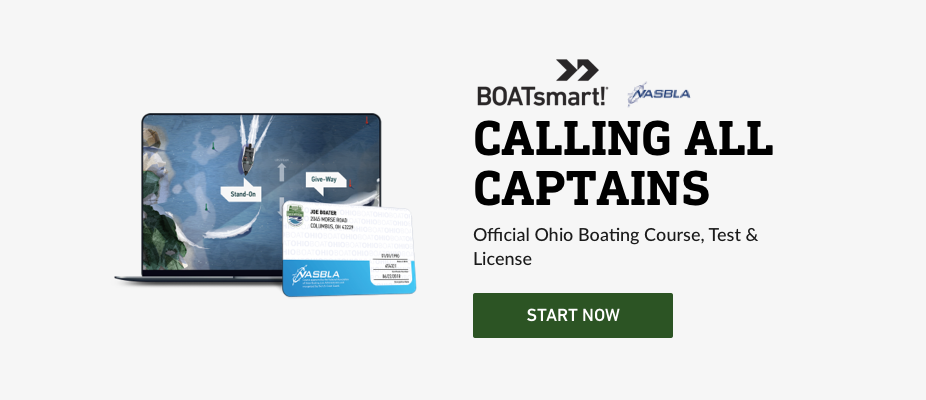 How do I get a boating license in Ohio?
Ohio boaters are not required to obtain an additional boating license. However, many boaters are required to obtain and carry proof of boater education. Luckily, BOATsmart! makes it easy to obtain your boater education card with the following steps:
Pass your online Ohio Boating Safety Test.
Print your temporary certificate immediately, and get on the water.
Are there any exceptions to needing a boating license in Ohio?
In Ohio, those meeting the following criteria are exempt from the boater education requirement:
A person born before January 1, 1982.
A person operating a recreational boat who possesses a valid merchant mariner credential issued by the Coast Guard with at least one endorsement of master or operator. Proof of the credential must be carried on board during boat operation.
—
Boating in the Buckeye State means big fun! With our engaging and animated boating safety courses, you can get to the water legally and with confidence. Check our course offerings today, and we'll get you certified, safe and ready to boat!