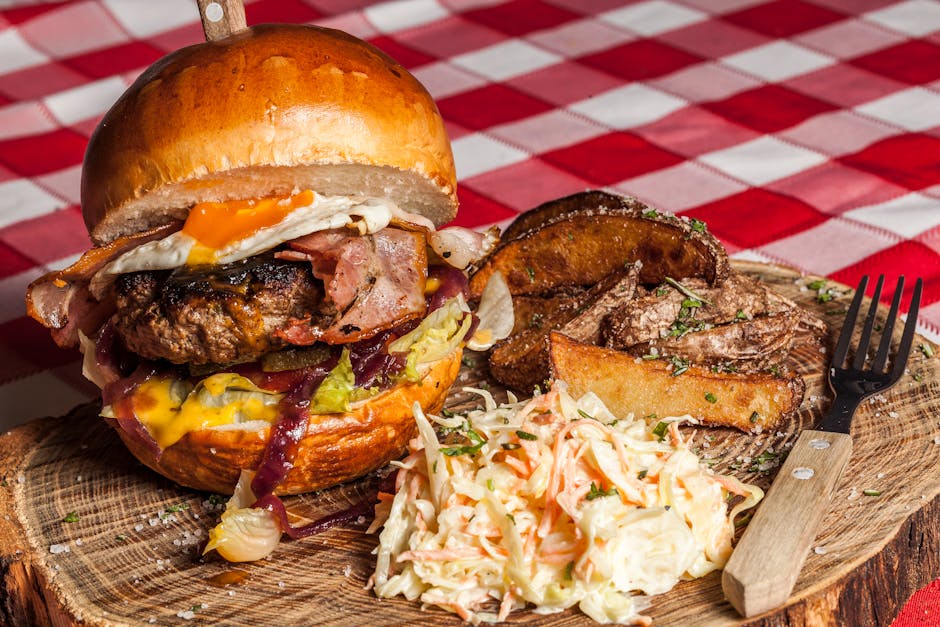 With BBQ season upon us, why not spice things up this Mother's Day with a fiery spin on some traditional brunch plates?  Cooking on the BBQ sparks memories of warm days at the cottage, a cold drink in your hand and the sound of laughter filling the air. There's really nothing quite like gathering around the BBQ after a fun-filled day at the cottage and enjoying a mouth-watering meal with the entire family.
Is there anything better than bacon and eggs? Some might say no; so, we're here to challenge that theory by adding a whole lot of beefy goodness. This BBQ brunch burger may be confused for a dinner-time meal, but don't let that deter you. The egg creates a rich, creamy sauce and the bacon adds that crunchy texture (also, it's bacon). This will be a huge brunch win and a sure-fire way to get in mom's good books!
Treat mom to this heavenly French toast dish and it will transport you both back to your youthful years with the sweet smell of warm bread drizzled with maple syrup and crisp, salty bacon on the side.  You'll need to factor in some preparation time to leave the bread cubes on skewers overnight ensuring optimal egg absorption, but these little guys are totally worth it!
Tacos for brunch, you ask? Don't worry, you can thank us later. With tomatoes and corn being at the top of their game in the Summer, why not take advantage? Scrambled eggs and melted cheese are the base of this brunch taco; mix in some grilled chorizo sausage, grilled tomatoes and sweet corn and wrap it all up in a corn tortilla for your new favorite Mexican-inspired BBQ brunch dish.
This breakfast pizza is breaking brunch boundaries everywhere as a sharable meal the whole family can enjoy.  With the spice from the sausage, the creaminess from the cheese and the buttery egg on top, your taste buds will be thanking you for this new rendition on a traditional favorite. The BBQ adds a smoky flavour to the dough, which you can either make yourself or buy already-prepared.
Grilled sandwiches with smoky pesto
Turn your classic grilled cheese into a melt-in-your-mouth decadent brunch option by adding gruyere cheese and grilled zucchini. Use a smoked paprika to the pesto and enhance the rustic, earthy flavors from the grill to this tasty sandwich. This new spin on an old classic will have you reminiscing on the good old days and will be sure to keep mom happy this Mother's Day.
Eggs benedict in a Portobello mushroom
Portobello mushrooms have been completely under-rated and it's time that changed! This mushroom has a meaty texture for those of you looking for a meat replacement and goes well with a side of mimosa. The mushroom caps make a perfect little bed for the eggs to sit in on the grill while you whip up a delicious and easy hollandaise sauce to drizzle on top.
Grilled corn muffins with blueberry honey butter
This summer-time delight is the perfect dish to accompany a warm cup of coffee. Take the crispy corn muffins off the grill and drizzle with the easy-to-make, homemade blueberry honey butter. You'll find it difficult to stop at just one!
Oh avocado, you complement so many wonderful dishes, it's time you were the main event! Rub some barbecue seasoning on the inside of the avocado and make room for the eggs to lay in it. Put them on the grill for about 5 minutes and voila, you have a fast and easy meal! Now you can enjoy some extra quality time with mom on Mother's Day.
Grilled asparagus and poached egg on ciabatta
This BBQ brunch option is a great way to get your veggies in – mom will be so proud! Grill the asparagus and the ciabatta bun on the BBQ while the eggs are being poached. Lay the poached eggs on top of the bun and asparagus and shave some fresh parmesan on top to heighten your tastebud experience.
Get BBQ brunchin' with these easy and delicious options that will have you cooking your way into mom's heart while enjoying the beauty and tranquility of the outdoors. You can make some new memories around the grill with new and inspiring dishes to show mom just how much she means to you this Mother's Day.