Boating Terminology
This article will help you get familiar with some basic boating terminology.
Who is the 'Operator'?
A boat 'operator' is the person who is in control of the pleasure craft and who is responsible for it's operation. As a pleasure craft operator you are responsible for yourself, your passengers, your boat and the safety of other boaters on the water.
What is a 'Pleasure Craft'?
A 'pleasure craft' is any vessel, ship or boat that's only used for pleasure or recreation. The most common types of pleasure craft include: sport fishing boats, bow riders, deck boats, inboard ski/wakeboard boats, houseboats, pontoon boats, cabin cruisers, yachts, personal watercraft, sailboats and paddle craft.
Note: If the boat carries goods or passengers for any type of profit, it's considered to be a commercial boat. Commercial boats will have different rules and regulations.
What is a 'Personal Watercraft'?
A 'personal watercraft' (PWC) is a small watercraft that's equipped with an inboard engine and is powered by a jet-propulsion system. A personal watercraft will have unique handling characteristics because of its small size and method of power. For example, you can't steer a personal watercraft unless throttle power is applied.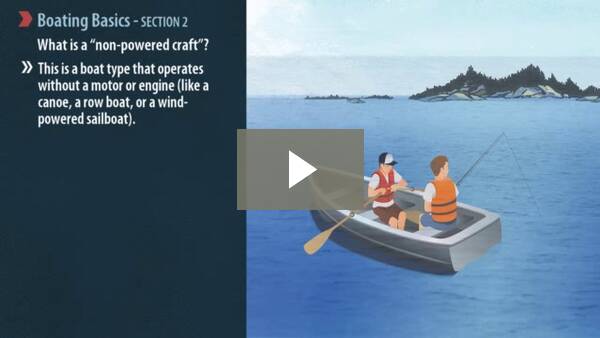 What is a 'Power-Driven Craft'?
Any boat powered by a motor or engine is a 'power-driven craft'. Some examples of this popular type of boat include the bow rider, the deck boat and the sport fishing boat.
What is a 'Human-Powered Craft'
A 'human-powered' or 'non-powered' craft, operates without a motor or engine. You manually move these types of boats forward with a paddle, sail or foot pedals. Examples include, canoes, kayaks, rowboats or wind-powered sailboats.
What is a 'Sailing Vessel'?

A sailing vessel, or sailboat, is any boat that's under the power of sail (wind-powered). If a sailboat is powered with an engine, it's considered to be a motorized boat and it will be subject to the same rules and regulations that apply to motorized boats.
Safe Boating Tip: You must understand the difference between 'power-driven' craft, 'human-powered' craft and 'sail-powered' craft. Why? Because the navigation and equipment rules are different for each type of boat!