Lock Navigation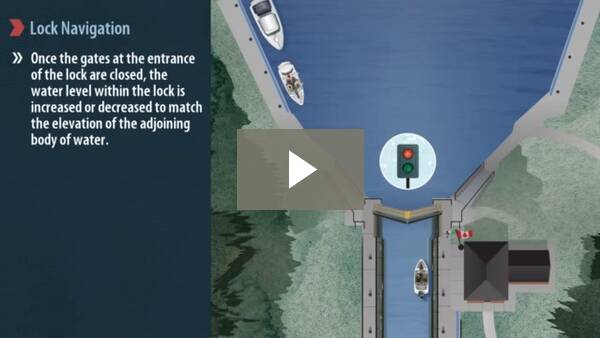 A lock is a physical structure of gates that enables vessels to travel between two bodies of water that are of different elevations.
Boats enter the lock from one body of water (vessels may enter from each end of the lock but from only one end at a time). Once the gates at the entrance of the lock are closed, the water level within the lock is increased or decreased to match the elevation of the adjoining body of water. When the correct water level has been reached within the lock, the gates are opened and boats are able to travel onwards.
A restricted speed zone is typically found at the entrance to each side of the lock. Obey posted speed limits and watch your wake when approaching a lock. Certain activities such as swimming, fishing, and water-skiing may also be restricted near locks.
Entering and Exiting a Lock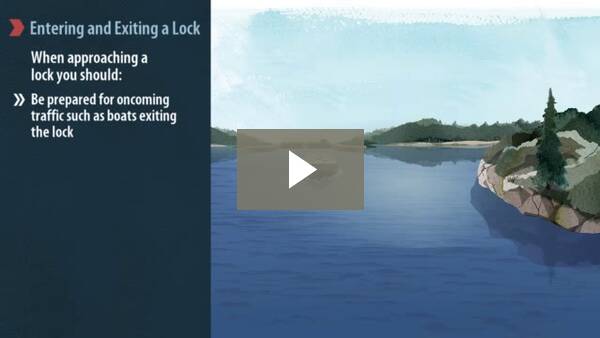 Operators should always control their speed when in the vicinity of a lock. When approaching a lock you should:
Identify and adjust for water currents and other boat traffic
Be aware of and operate according to any posted navigational aids (markers and buoys)
Identify and adjust for adverse weather conditions such as high wind
Be prepared for oncoming traffic such as boats exiting the lock
By mooring at the 'blue line' area at the mouth of the lock, the lockmaster is made aware of your intention to enter the lock at the next opening. The lockmaster may provide specific instructions to your vessel including when to enter, in what order and where to moor your vessel once inside the lock. Only tie up to the 'blue line' if you wish passage through the lock.
When Entering a Lock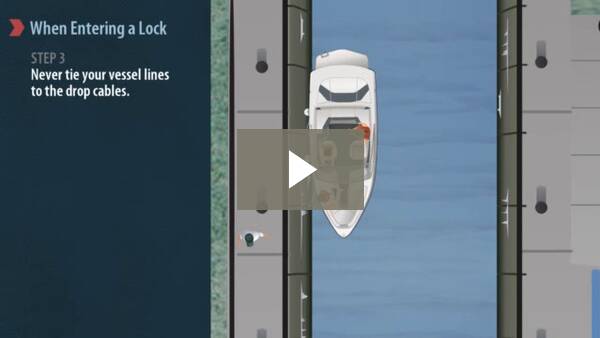 Step 1) Wait for any instruction from the lockmaster or waterway personnel.
Step 2) Proceed slowly (maximum speed limit is 10 km/h) and with caution into the lock. Have crew members posted at the bow and stern of the boat with mooring lines ready to use.
Step 3) Use the vertical 'drop cables', affixed to the walls of the lock to secure your bow and stern. Your boat's mooring lines should be wrapped loosely around the lock's drop cables allowing for upward or downward movement of your craft. Never tie your vessel lines to the drop cables.
Step 4) Once positioned, turn off all engines, cease from using any fuel-burning appliances, and refrain from smoking. Turn on your engine ventilation system. Do not leave your mooring lines unattended.
Step 5) Once the water level within the lock has reached the proper elevation, the opposite end of the lock will open. The lockmaster will instruct you when to start your engine and when to proceed.
Step 6) Proceed with caution. Never block the entrance to the lock from other boats that may be entering or exiting.
START NOW