Proof of Competency
When you're out on the water, there's a chance you may be asked to provide proof of competency to local law enforcement agencies when operating your boat. So what exactly is this? Proof of competency can take three forms:
A Pleasure Craft Operator Card (PCOC) issued following the successful completion of a Transport Canada Accredited study guide and exam.
Proof of having taken a boating safety course in Canada prior to April 1, 1999, or having obtained an approved marine certificate. Check to see if your certificate is accepted as proof of competency.
A completed rental boat safety checklist which is required if operating any rental boat that is motorized.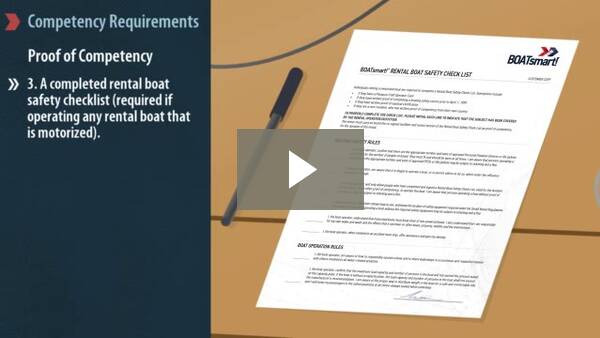 Boating License Requirements
Regardless of age, size of boat or engine horsepower, operators of motorized vessels in Canada are required to carry proof of competency on board at all times. Operators should also carry personal identification.
Non-residents who operate non-Canadian registered vessels for less than 45 consecutive days do not require proof of competency. However, non-residents who operate a Canadian registered vessel must carry proof of competency at all times. Proof of residency is required.
If you cannot provide proof of competency to a law enforcement officer, you will face a minimum fine of $250.
Obtaining a Boating License
BOATsmart!® administers the official Transport Canada Boating Safety Test. Boaters who score a  grade of 75% or higher on the test will receive their Pleasure Craft Operator Card. Once obtained, your BOATsmart!® PCOC is good for life.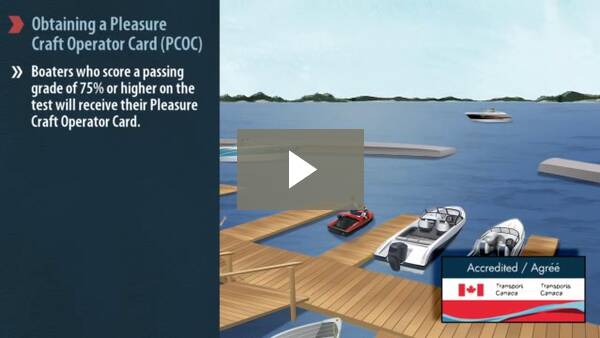 The BOATsmart!® Online Course is the most convenient way to prepare for the test and get your boating license. You can complete the narrated, animated study guide from the comfort of home!
Start the course, study at your own pace and BOATsmart!® will track your progress.
Take the official Boating Safety Test from the comfort of home. No supervisor is required.
Print a temporary card immediately and receive your permanent PCOC by mail.
Hit the water with confidence!
BOATsmart!® also offers in-class and on-water courses in local communities. Visit BoatSmartExam.com for details and locations.
START NOW