Life Jacket Laws
Always have the right safety equipment onboard your boat. It's one of the most important things you can do for boating safety and it's the law.
Federal law requires that all boats be equipped with one wearable life jacket for each passenger onboard the boat (wearable life jackets include Types I, II, III, or V). As the boat operator, it's your responsibility to provide a life jacket for each of your passengers. Remember, there are fines for those who fail to carry the proper number and/or type of life jackets for their passengers.
Coast Guard-Approved Life Jackets and Personal Flotation Devices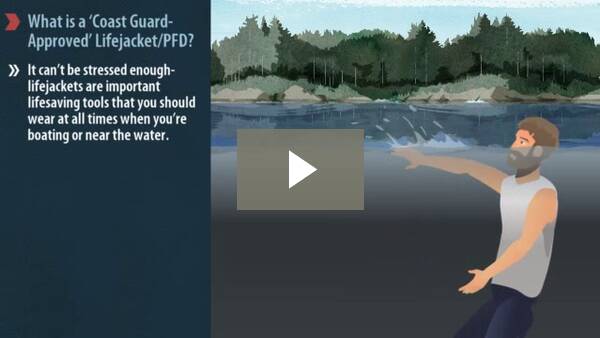 'Coast Guard-approval' means that your equipment has met all of the regulations that the United States Coast Guard has set in place. These very specific regulations relate to the equipment's performance, construction and materials.
Even if your equipment has Coast Guard-approval, you will still need to ensure that it's undamaged and in good condition. Remember to maintain your life jackets often and replace them according to the manufacturer's instructions.
It can't be stressed enough—life jackets are important lifesaving tools that you should wear at all times when you're boating or near the water. Why? Because more than 90% of all the people who drown while boating were NOT wearing a life jacket. Fortunately, today's Coast Guard-approved life jackets come in a variety of styles that are comfortable to wear and they look great! So WEAR IT!
Safe Boating Tip:
Attach a waterproof safety light and whistle to all of your life jackets. This is not a requirement, but this equipment would be very helpful during a fall overboard emergency. If you ever find yourself stranded in the water—especially if it happened at night—a whistle and a light would be welcome equipment.
Life Jacket Classifications and Types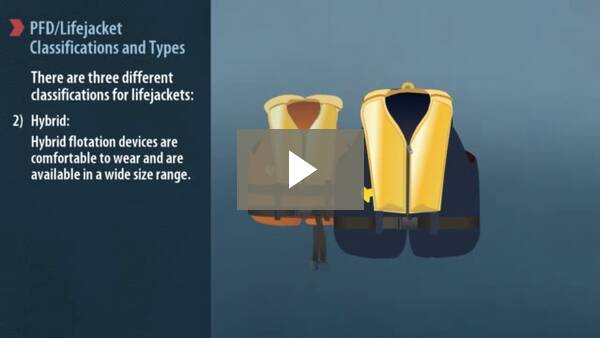 There are three different classifications for life jackets:
Inherently Buoyant
This style of life jacket is primarily made of foam. Inherently buoyant flotation devices are very durable and come in a wide size range. They usually outlast the other life jacket styles.
Hybrid
This life jacket design combines foam with inflation. Hybrid flotation devices are comfortable to wear and are available in a wide size range.
Inflatable
This style of life jacket is very comfortable and compact. Some vests can be inflated manually and some have air chambers that inflate automatically once the wearer enters the water.
The U.S. Coast Guard has approved the following types of personal flotation devices:
Type I
Type II
Type III
Type IV
Type V
Type I: Offshore Life Jacket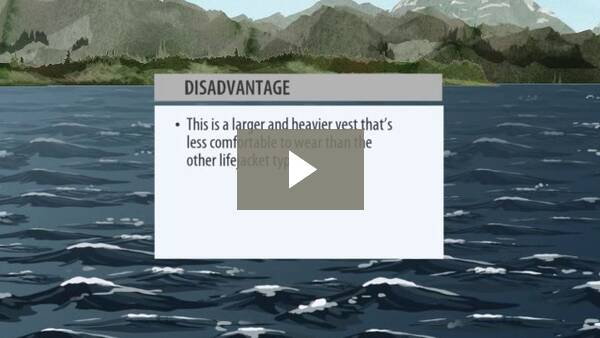 This is the most buoyant vest you can wear. Type I vests are designed to turn an unconscious wearer face-up in the water. This is the vest you should wear in rough water conditions, when you're boating far from shore and in situations where a rescue might not be immediately possible.
Advantage:
The high level of buoyancy increases the likelihood of your survival in an overboard emergency.
Disadvantage:
This is a larger and heavier vest that's less comfortable to wear than the other life jacket types.
The Type I life jackets available are:
Inherently Buoyant Type I PFDs – SOLAS Service.
Inherently Buoyant Type I PFDs – U.S. Service.
Inflatable Type I PFDs – SOLAS and Domestic.
Hybrid Type I PFDs – U.S. Services.
Type II: Near-Shore Buoyancy Vest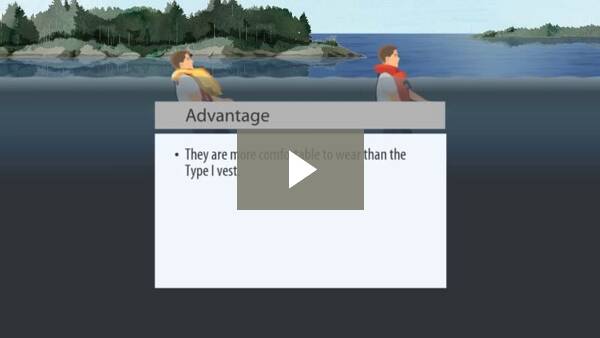 This vest is best worn in calm waters when you're boating close to shore. There's a wide selection of sizes available for Type II vests. Additionally, inflatable vests of this type are designed to turn the unconscious wearer face-up in the water.
Advantage:
They are more comfortable to wear than the Type I vest.
Disadvantage:
They should only be worn in close-to-shore boating situations where a quick rescue would be likely in an emergency situation.
The Type II life jackets available are:
Inherently Buoyant Type II life jackets.
Inflatable Type II life jackets.
Hybrid Type II life jackets.
Type III: Flotation Aid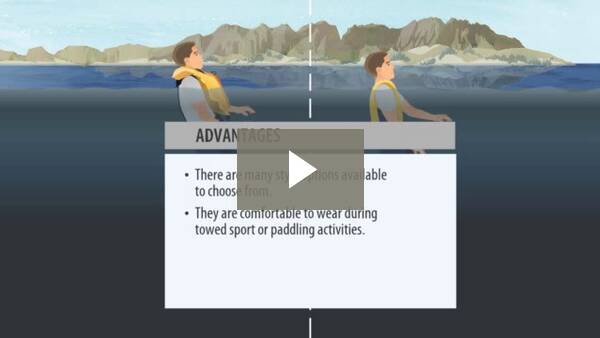 These vests are often worn during water sport activities and are available in many colors, styles and sizes. They should be used when you're boating on calm, inland waters.
Inflatable vests of this type are designed to turn the unconscious wearer to a face-up position in the water. However, the wearer may need to tilt their head back to avoid flipping face down.
Advantages:
There are many style options available to choose from.
They are comfortable to wear during towed sport or paddling activities.
Disadvantage:
Wearers may need to place themselves in a face-up position when in the water.
The Type III life jackets available are:
Inherently Buoyant Type III life jackets.
Inflatable Type III life jackets.
Hybrid Type III life jackets.
Safe Boating Tip:
When in a smaller boat, other boaters may find it difficult to see you. To increase your visibility to other boaters, you should always wear a brightly colored life jacket.
Type IV: Throwable Device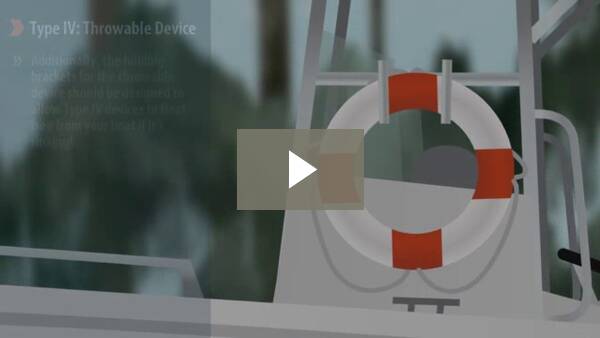 This flotation device type is meant to be used anywhere that you're boating but is best used in calm waters where rescue is always available. These devices are meant to be thrown to people who have fallen overboard—not worn by them. The person in the water must hold onto the Type IV device in order to stay afloat.
The throwable device must be in good condition (no rips or tears) to be considered Coast Guard-approved. Additionally, the holding brackets for the throwable device should be designed to allow Type IV devices to float free from your boat if it's sinking!
Advantage:
Throwable flotation devices may be easily thrown to a person in the water.
Disadvantage:
Throwable flotation devices are not designed to be worn and must be grasped by the person in the water until they can be rescued.
The Type IV throwable devices available are:
Buoyant cushions.
Life rings.
Horseshoe buoys.
Note: If your boat is over 16 feet in length, federal law requires you to have one Type IV throwable device onboard, in addition to a life jacket for each person on the boat.
Type V: Special-Use Devices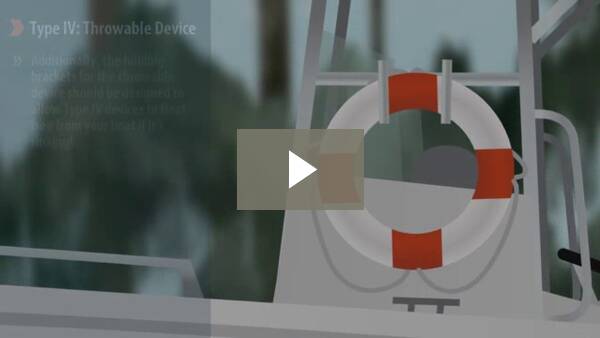 These flotation devices are intended for particular water activities (such as a kayaking vest or a work vest). The Type V inflatable vests are very comfortable to wear and most are designed to inflate automatically when you enter the water.
Advantages:
These vests are tailored to perfectly suit the activity for which they are being used.
Some are designed for cooler climates and may even provide hypothermia protection. 
Disadvantage:
These vests only meet the Coast-Guard requirements when they're being worn.
Type V life jackets available are:
Hybrid Inflatable life jackets.
Canoe/kayak vests.
Boardsailing vests.
Deck suits.
Work vests for commercial boats.
Commercial whitewater vests.
Man-overboard rescue devices.
Law enforcement flotation devices.
Federal Regulations for Inflatable Life Jackets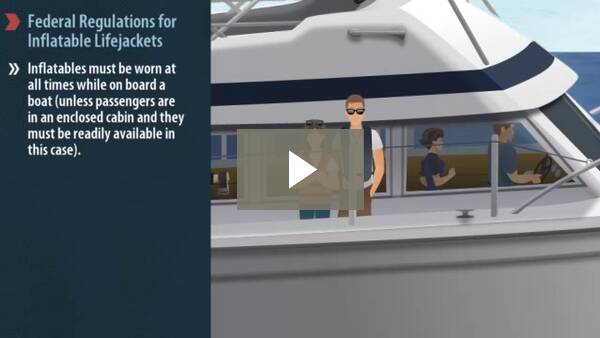 Inflatable life jackets are only approved for use by persons 16 years of age or older.
Inflatables must be worn at all times while onboard a boat (unless passengers are in an enclosed cabin and they must be readily available in this case).
Inflatables are not approved for use on a personal watercraft (PWC) or for participants of towed sports.
Inflatables must have a full cylinder and all status indicators on the inflator must be green.
Understanding Life Jacket/PFD Labels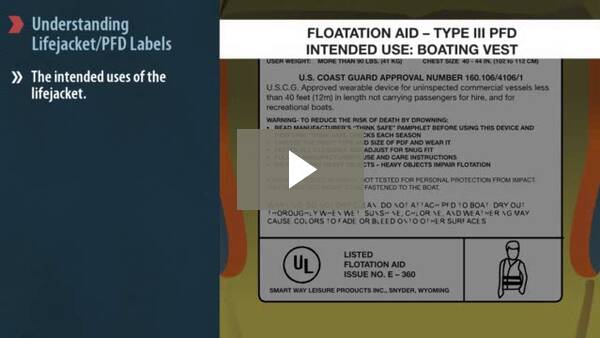 It's important to read and understand the information on your life jacket label before you purchase it. The label information will include:
The intended uses of the life jacket.
Coast Guard-approval (or lack thereof).
Sizing information.
Instructions on how to properly secure the life jacket.
The care and maintenance instructions.
Choosing the Right Life Jacket
If you're purchasing a new life jacket, consider the following:
Adult sizing is based on chest size and body weight.
Check that all of the closures (zippers, buckles and clips) can be properly secured.
Choose a life jacket that suits the type of activities you plan on doing. For example, will you be wakeboarding? Paddling? Fishing?
Check the label to confirm that the life jacket has been Coast Guard-approved.
Try it on and zip or buckle up! Make sure that the life jacket is the right size for you.
Check that it fits snugly but allows for freedom of movement.
If you're purchasing a life jacket for another person, make sure the sizing is right for that person.
Remember: It's illegal to use your life jacket in any other way than the manner recommended by the manufacturer. This means that you should never use your life jacket as a boat bumper or as a seat cushion.