Life Jackets: Laws for Children
The laws regarding children wearing life jackets vary by state. However, federal law requires any child 12 years of age or younger to wear a Coast Guard- approved Type I, Type II or Type III life jacket while they're underway on any kind of boat. The only time a child is not required to wear a life jacket is when the boat is not underway (i.e. when it's anchored or moored) or if the child is inside the boat's enclosed cabin. However, the life jacket must still be readily accessible at all times.
Children tend to panic in emergency situations and they could easily drown if struggling in the water without a life jacket to keep them afloat and face-up. Make sure you show kids how to properly secure their life jackets and recommend that they wear them at all times when they're on a boat or near the water.
A child's life jacket should have the following features:
A label indicating that it's been Coast Guard-approved.
An extra-large collar to support the child's head.
A safety strap between the legs to prevent the jacket from slipping up over the child's head.
A grab strap located on the collar.
Reflective material.
Children's Life Jacket Sizing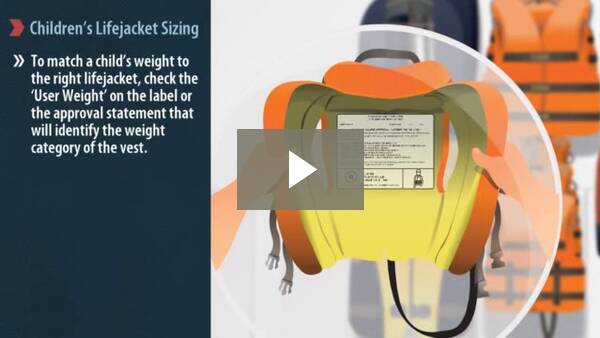 Tips for buying a child's life jacket:
Always check the sizing while in the store.
While the child is wearing the life jacket, pull it up at their shoulders—if the vest touches the child's ears, it's too big for them.
Make sure the child is comfortable in the vest—or they won't want to wear it!
Never buy a size larger than you need hoping the child will 'grow into it'.
To match a child's weight to the right life jacket, check the 'User Weight' on the label or the approval statement that will identify the weight category of the vest.
The weight categories for children's life jackets are:
Less than 30 lbs.
30 to 50 lbs.
50 to 90 lbs.
Safe Boating Tip:
Inflatable toys should never be used in place of life jackets. Additionally, be sure to tuck in any loose life jacket straps to prevent the child's vest from getting tangled on the boat, dock or caught on an underwater object.
Testing Your Life Jackets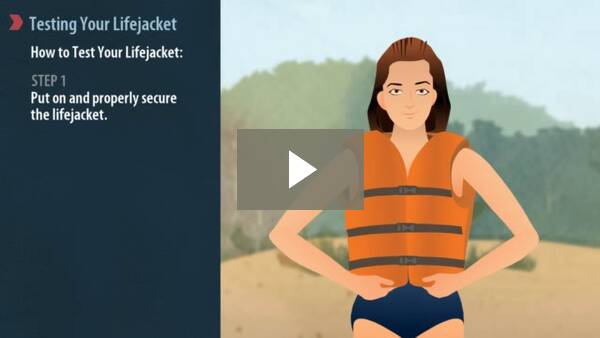 Life jackets should be tested for buoyancy at the start of each season and regularly throughout the season. Even if they are new!
Children's life jackets should also be tested to ensure proper fit and buoyancy. Have your child follow the same procedure in a controlled environment under parental supervision.
How to Test Your Life Jackets:
Step 1) Put on and properly secure the life jacket.
Step 2) Wade into chest-deep water.
Step 3) Bend your knees and float onto your back.
Step 4) Ensure the life jacket keeps your chin above the water and allows you to breathe comfortably.
Step 5) Stand up and reach above your head—if the vest hits your nose, it may be too big.
Adjusting Your Life Jackets
To be a perfect fit, life jackets should have a bit of room to allow water under the front of the vest. This means that you should choose a vest that you will be comfortable in while moving your arms. You should also have the space you need to take a deep breath. All zippers, fasteners, buckles and straps should be adjusted to ensure a proper fit.
The Risks of Not Wearing a Flotation Device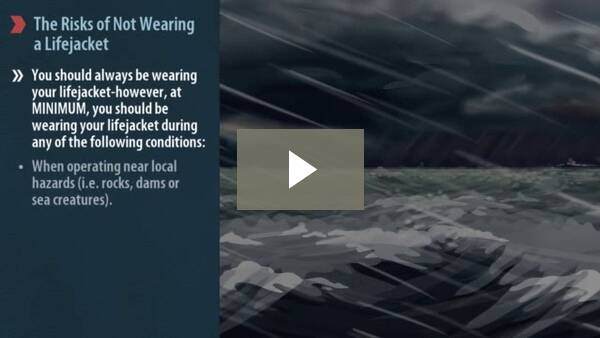 There is a frightening fact that every boater should know: 9/10 drowning deaths occur close to shore and most within only a few feet of safety. Nearly all of these victims had life jackets in their boat, but they weren't wearing them at the time of their emergency.
You should always be wearing your life jacket—however, at MINIMUM, you should be wearing your life jacket during any of the following conditions:
When approaching stormy weather.
When operating near local hazards (i.e. rocks, dams or sea creatures).
When operating at night or during limited visibility.
When operating in heavy boat traffic zones.
When you're boating alone.
When you're boating far from shore.
Keep in mind that the weather and water conditions can change rapidly. The best way to prepare for a boating emergency is to wear your life jacket at all times while you're on board a boat.
How to Put on a Wearable Flotation Device in the Water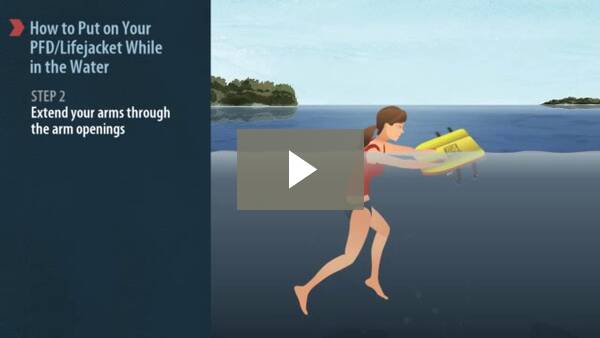 This procedure is more difficult than it may seem! Practice in a supervised area:
Step 1) Spread the flotation device open with the inside facing up and out of the water and the neck facing toward you.
Step 2) Extend your arms through the arm openings.
Step 3) Lift your arms above your head, lie backwards and then pull the life jacket around your upper body.
Step 4) Fasten the zippers, straps, buckles and/or ties to ensure a snug fit.