Our guide to boating, fishing and having fun in the beautiful Georgian Bay.
Nestled along the northeastern side of Lake Huron, Ontario's Georgian Bay is a stunning area of deep water, pine forests and tons of opportunity for adventure both on and off the water. From the deep waves to the insane views to the beaches, boating on Georgian Bay gives you the very best of what boating in Ontario is all about!
Whether you're looking along the eastern edge, the southern shores or the northern peak, BOATsmart! has you. covered with the best of what Georgian Bay has to offer — so have fun, and wear a lifejacket!
Where to boat on Georgian Bay
Spanning 15,000 square kilometres, Georgian Bay is packed with adventure for boaters and aquatic enthusiasts alike. With so many destinations to choose from, there really is something for everyone! Here is an overview of the different spots you can visit and boat on Georgian Bay.
Southern Shores
Home of Blue Mountain, Collingwood and Wasaga Beach, the southern shores of Georgian Bay are characterized by sandy beaches. There's plenty of adventure to be found on and off the water. You can book a fishing charter with Five Star Fish & Cruise Charters or launch your own boat at numerous public boat ramps. There are two public ramps in Collingwood, one each in Meaford, Thornbury and Eugenia and two in Wasaga beach. Looking for some more excitement? You can also rent jet skis, or take part in extreme water sports such as wakeboarding, water skiing, tubing or wakesurfing.
Fresh water anglers will be delighted with the large amounts of bass (both largemouth & smallmouth), catfish, pike, salmon, trout, walleye, sturgeon & tiger muskie that can be found in the bay. Many can be seen fishing the shoreline well into January and February until the surface becomes solid enough to set up their hut and drop a line through the ice.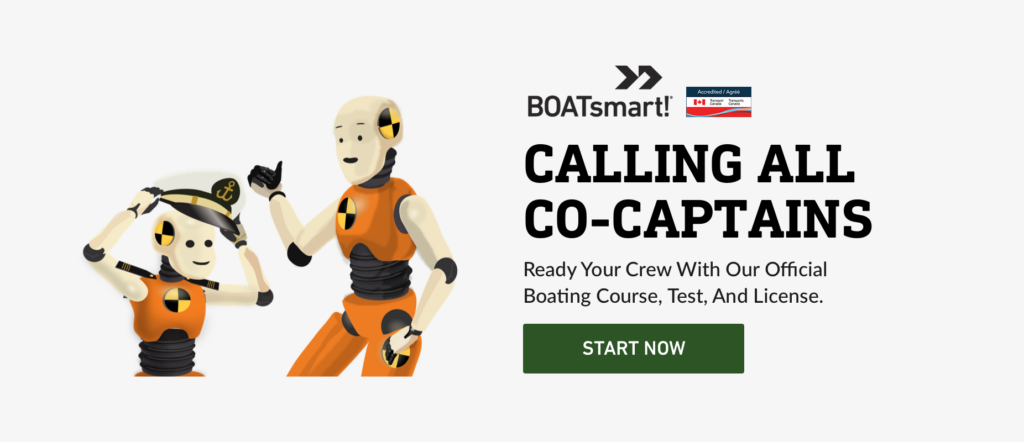 Northern Peak
Along the northern edge of the bay lives the historic French River and the village of Killarney. The beauty of Killarney is well known to have inspired members of the Group of Seven, and once you visit, you'll see why. A quaint fishing village and world renowned cruising and sailing destination draws boaters from all over to enjoy the picturesque Georgian Bay and North Channel. Killarney has a municipal boat launch and the Killarney Channel is home to plenty of marinas for short or long term stays. Don't forget to schedule a trip to Killarney Provincial Park – the "Crown Jewell" of the Ontario parks. Enjoy canoeing and sea kayaking, plenty of hiking, including the 80 km La Cloche-Silhouette Trail, camping, beaches and snowshoeing in winter!
The French River is also home to a provincial park, as well as a number of small villages and towns that line its banks. There are plenty of freshwater fish for the catchin' – including muskie, walleye, largemouth Bass, smallmouth Bass and northern pike. The 128km river in comprised of 3 sections and connects Georgian Bay to Lake Nipissing, but don't expect to boat from one end to the other. The three sections are connected by rapids and falls that lower the river by 60 feet from one end to the other.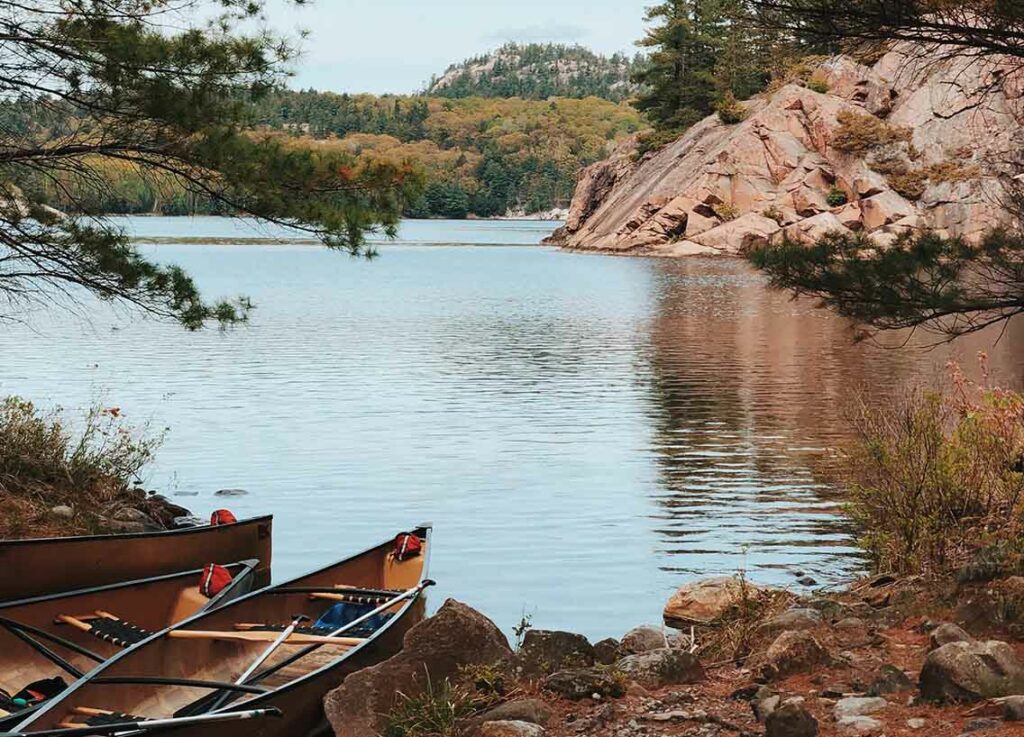 Eastern Edge
The eastern edge of Georgian Bay stretches from Honey Harbour, up through Perry Sound, to Killarney in the north. This is considered the 30,000 Island region. Known as the world's largest freshwater chain of islands, the 30,000 Island region offers next-level boating, kayaking and paddling opportunities — and, if you're in for an adventure, you can make it a weeklong trip. Sleep in your boat or camp at one of the eight (yes, really) provincial parks that call the region home.
The shorelines are spotted with marinas, harbours and boat launches. Make sure to check the local tourism sites to ensure you have access before making the trip. You can also tour the region aboard the Island Queen or the M.V. Chippewa II to make the most out of your visit along the eastern shores of Georgian Bay.
The Peninsula
Most notably home to Tobermory, Lion's Head, Sauble Beach and Wiarton, the Bruce Peninsula area of Georgian Bay is nestled between the crystal clear waters and rocky shores of the bay and the warm, sandy beaches of Lake Huron. Public boat access can be found in each of these areas and adventure is plentiful. Tobermory is home to many boat tours including glass bottom tours and trips to well known locations such as Flower Pot Island and Fathom Five National Marine Park. You can also catch the Chi-Cheemaun in Tobermory. The Chi-Cheemaun is a ferry that goes from Tobermory to Manitoulin Island.
Divers will be delighted by the opportunity to explore the over 20 shipwrecks that can be found around the tip of the peninsula, and land lovers will not be disappointed with the Bruce Trail through the Niagara Escarpment. Most quality fishing in the area must be done by boat, and you can expect to see salmon, whitefish, lake trout, pike and perch. With it's impressive depths (up to 540 feet at it's deepest point) this area is a great place to try your hand at downrigging!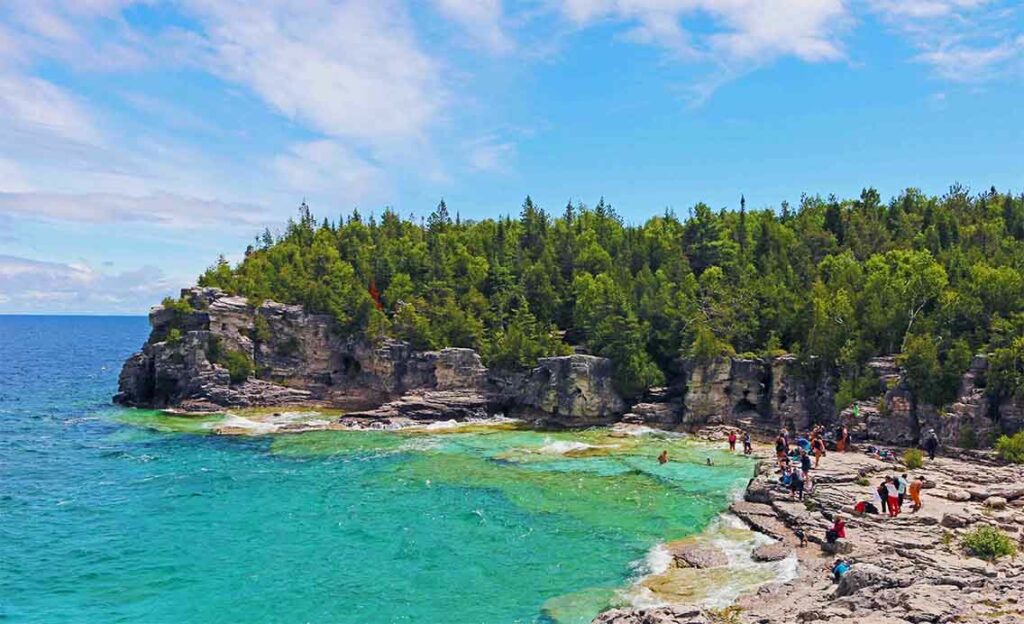 Other things to know on Georgian Bay
Fishing and boating on Georgian Bay are two of the best things you can do in the area, but there are quite a few rules and regulations you'll want to research and keep in mind. There are fishing limits and restrictions in place on the water, along with licensure requirements. When you boat on Georgian Bay, you also must agree to keep your noise level down, your anchors far from cottages and your wake nonexistent in areas where other boats are anchored.
Georgian Bay safety considerations
When it comes to Georgian Bay boating, you need to keep an eye on the water depth — along with speed — due to the number of islands and hazards underwater. The Bay is a great boating area, but be careful! The waters on the Bay can also quickly get rough — especially with changing weather.
Georgian Bay boating also goes hand in hand with boating safety. All Canadian boat operators must hold a Pleasure Craft Operator Card to operate any motorized boat or personal watercraft legally. Need to get yours? BOATsmart!'s engaging, animated and narrated curriculum is for you — and built to get you on the water legally, safely and quickly.