Boat Safety Equipment Requirements in Canada
Part of being a smart boater is fully understanding the boat safety equipment that is required onboard and knowing how to use it. Having the right equipment on board is one of the most important things you can do to ensure you are boating safely (right after getting your boating license)!
The Small Vessel Regulations (part of the Canada Shipping Act, 2001) outline the minimum mandatory boat safety equipment that must be carried on board your boat. If you operate a power boat that does not have the required safety equipment, or if your boat isn't in good working order you are breaking the law.
The type of safety equipment required will vary depending on the type and size of your boat. The Small Vessel Regulations require your safety equipment to be:
In good working order
Regularly maintained
Replaced in accordance with the manufacturer's instructions
Readily accessible for immediate use
Types of Boat Safety Equipment
There are four main types of boating safety equipment required in Canada:
1. Personal Safety Equipment
2. Boat Safety Equipment
3. Distress Equipment
4. Navigation Equipment
We'll take a closer look at each one of these in detail- let's start with personal safety equipment.
Personal Safety Equipment
Your Personal Safety Equipment must be carried onboard at all times. This includes life jackets and personal flotation devices (PFDs) as well as a buoyant heaving line. It's important that as a boat operator, you don't only have these on board but that you show your passengers how to use them. Everyone should be prepared in the event of an emergency. Be sure to check your personal safety equipment before and after every trip to ensure it will work properly when needed.
Life Jackets and Personal Flotation Devices
Similar to a seat belt in your car, your life jacket or PFD won't work unless you wear it. All boaters should wear a flotation device at all times when in and around water, not just when operating or riding in a boat.
Safe Boating Tip: More than 90 percent of people who drowned while boating were not wearing a life jacket or PFD.
Wearing a Canadian-approved, properly fitted flotation device will greatly reduce the risk of accidental drowning. In fact, statistics show that most small craft operators who drown are often within sight of a potential rescuer and would likely have been saved had they just remained afloat a few moments longer.
There are three main types of Canadian-approved flotation devices:
Life Jackets
Personal Flotation Devices (PFDs)
Inflatable PFDs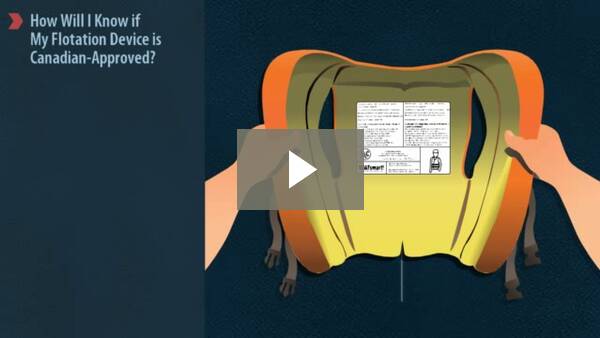 Canadian-approved flotation devices have a label or stamp indicating approval by Transport Canada or by the Canadian Coast Guard. Check to see if yours is approved and be aware that not all PFDs are Canadian-approved (like some wakeboard vests). Also, keep in mind that the approval status of a life jacket or PFD is void if it has been damaged, altered, repaired or if the label or stamp indicating approval is illegible. If ripped or damaged, replace your flotation device immediately.
Buoyant Heaving Line
The second necessity that's part of your personal safety equipment is a buoyant heaving line. This is designed to throw overboard to rescue a person from the water. Some heaving lines are light and can be more difficult to throw long distances. Using a buoyant heaving line equipped with a throw container (a weighted plastic shell or bag at one end) will enable you to throw with less difficulty.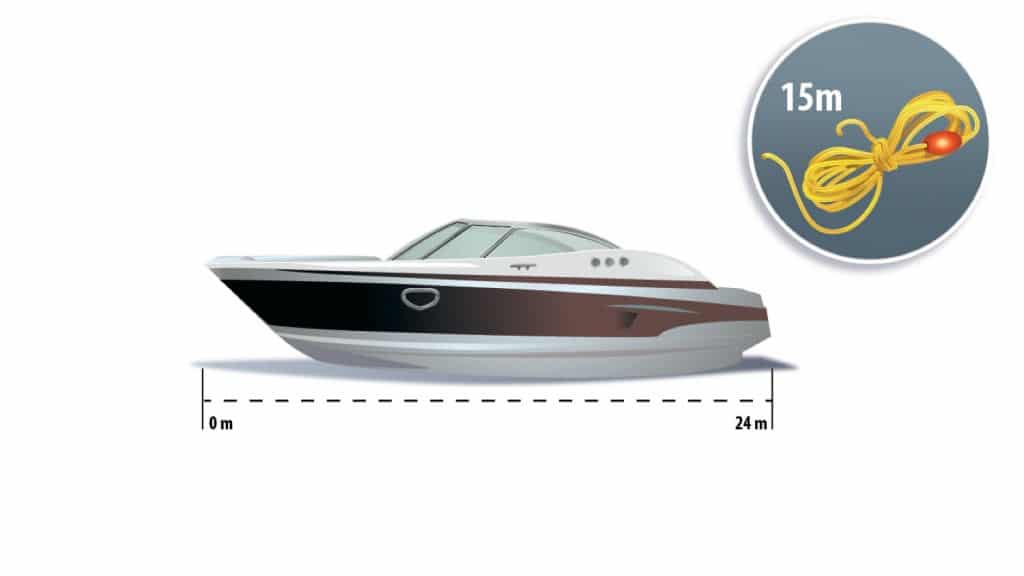 The Small Vessel Regulations require that buoyant heaving lines be:
Emergency Kit
Although not required as part of your personal safety equipment, boat operators are encouraged to carry an emergency kit on their boat at all times. The kit should be stored in a watertight plastic bag and should include:
Emergency food and drinking water
A first aid kit
Waterproof matches
A waterproof flashlight
A knife
Dry clothing
When it comes to Safety Equipment and boating, feel free to take your time and check your list off item by item. We want to be sure you're prepared for any boating trip you might take! If you're ever unsure as to what you need onboard with you when it comes to safety equipment, refer to our online boating course for details.
Now that you're knowledgeable of Personal Safety Equipment, let's talk about the second category, Boat Safety Equipment.