Who Needs a Boating License?
Everybody does. It's a Canadian law and it applies to all ages. If you're operating a motorized boat in Canada, you're legally required to carry your proof of competency on the boat with you, like a Pleasure Craft Operator Card, or boating license.
FYI: The fine for operating a boat without a boat license is $250. The cost of the BOATsmart! Course is only $49.95!
How Do I Get a Boating License?
You can get your boat license and become a certified boater today. Seriously, you're only 3 Steps away from getting out on the water!
If you have Wi-Fi on the dock, it's as easy as finding a sunny spot with a good breeze, turning on your laptop, tablet or smartphone and registering on BoatSmartExam.com. Take Canada's Official Boating Safety Course and Test from the cottage, office or from the comfort of home. It can be completed from almost anywhere!
Get Your Boating License in 3 Simple Steps!
STEP 1: Complete the Boating Safety Course at BoatSmartExam.com! It's designed for all ages, fully animated and narrated!
STEP 2: Pass the test. There's no pressure – it's multiple-choice and retries are free and limitless!
STEP 3: GO BOATING! Print a temporary card immediately and hit the lake! Your official BOATsmart! Card will be mailed to you and will never expire.
Canada's Boating Laws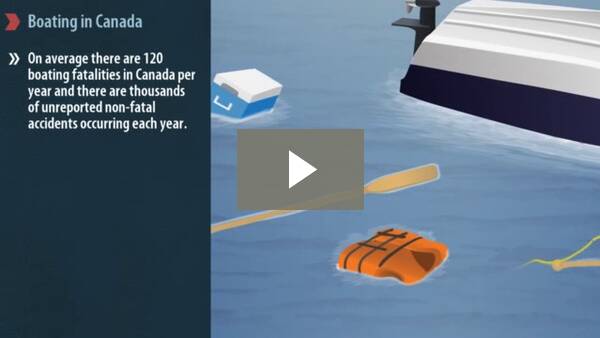 Since 2009, the Canadian government has required Canada's 9 million boaters to obtain their proof of operator competency, such as a Pleasure Craft Operator Card or boat license. This requirement includes personal watercraft (PWCs or 'Sea Doos'), motorized sailboats and small boats with electric trolling motors. Your boating license must be carried on board the boat at all time during boat operation.
Boating Accidents and Fatalities
On average, there are 120 boating fatalities per year and 1,000's of unreported non-fatal accidents occurring in Canada each year. All of these accidents and deaths are preventable with basic boating knowledge and skill.
Canada's Most Common Causes of Boating Accidents and Fatalities:
Not wearing a life jacket or personal flotation device (PFD).
Person falling overboard.
Capsizing (sinking, swamping or grounding) and collisions with other boats.
Operating a boat while impaired by drugs or alcohol
Stay safe on the water by making sure you have the boating knowledge and skill you need to get you and your passengers home safely.
As a county that is home to approximately 60% of the world's lakes, it's no wonder that Canadians love hitting the water. Recreational boating has become a favourite pastime for many. In fact, there are over 9 million recreational boaters in Canada.
Maybe you're a long time boating enthusiast who spends every warm day possible on the water or perhaps you're a recreational boater simply looking to feel confident driving a boat over a long weekend at the cottage with friends. No matter your experience, it's important to understand the rules and regulations that apply to Canadian waterways.