Looking to go boating in Canada? It's your responsibility to stay up-to-date on the laws and requirements that are required when operating a boat. These regulations change from time to time, but don't worry; we're here to help! Here's the up to date information about what you need to know before heading out on the water.
The main Canadian boating laws that boaters must follow are contained in the Canada Shipping Act 2001 and in the Criminal Code of Canada.  Let's take a closer look:
Canada Shipping Act 2001
The Canada Shipping Act, 2001 establishes a framework of rules and regulations and is the 'umbrella' act under which all boating regulations are developed in Canada. It incorporates international and federal laws and regulates all boats operating on Canada's waterways.
The Small Vessel Regulations are part of the Canada Shipping Act, 2001 and outline the minimum mandatory safety equipment that must be aboard your boat. The Small Vessel Regulations also outlines safety precautions, maintenance procedures to follow before and while boating, boat registration and licensing as well as construction standards for building a boat.
Criminal Code of Canada
The second part of the equation when it comes to understanding boating laws and regulations in Canada is the Criminal Code of Canada. This enables law enforcement authorities to charge boat operators for criminal offences. Here's what you need to know from the Criminal Code of Canada:
Requires a pleasure craft operator to stop and assist another boat when he/she is in distress, as long as it does not place themselves, their boat or their passengers in a dangerous position
Requires that a person other than the operator (a spotter) keep watch of any person being towed (like a water-skier)
Prohibits the towing of water-skiers from one hour after sunset to sunrise
Prohibits vessels from being operated in a manner that is dangerous to the public
Prohibits false emergency signals or messages
Prohibits operators from interfering with marine signals and navigation aids
Prohibits the operation of a boat that is in 'unseaworthy' (poor or unsafe) condition
Prohibits the operation of a boat while under the influence of drugs, alcohol or controlled substances
Prohibits the operation of a boat while disqualified or prohibited from boat operation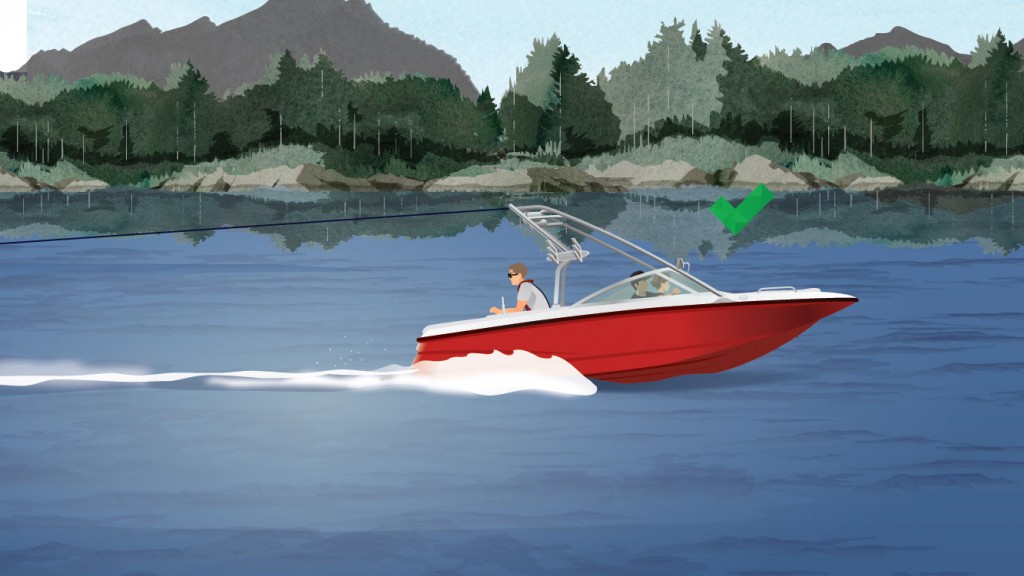 Abiding By Canada's Boating Regulations
Canada's marine acts, regulations and code are law and apply to all boat operators in Canada whether you're a resident or visiting the country. You may face fines, penalties or imprisonment if you violate these laws. Keep in mind that while travelling abroad you are required to obey the laws of that host country, be sure to look these up before you leave Canada.
When it comes to enforcing these boating laws, the Royal Canadian Mounted Police (RCMP), provincial and municipal police forces and other local authorities are in charge. Law enforcement officers may inspect your boat and monitor your activities at any time to ensure that you are in compliance with the above boating laws.
To abide by the rules and regulations of boating in Canada, take the BOATsmart!® online boating safety course and get certified for your Pleasure Craft Operator Card, more commonly known as a boating license.