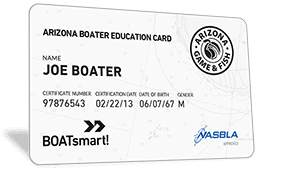 AGE REQUIREMENTS FOR ARIZONA BOATERS
Although at this time there are no mandatory education requirements in Arizona, having a Boater Education Card will make you a better, more confident boater and may also be beneficial with regard to reciprocity regulations, should you ever choose to boat in another state where boater education is required.
Excellent!
BOATsmart! has a rating of 4.4 out of 5 stars based on 8086 ratings and reviews.

Official Arizona Boating Course
The Arizona  BOATsmart! Boating Safety Course is approved and accredited by Arizona Fish & Game With more than 3,000 Five Star Reviews, we're proud to be recognized as an official Arizona State Boating Course and the choice of boaters in Arizona.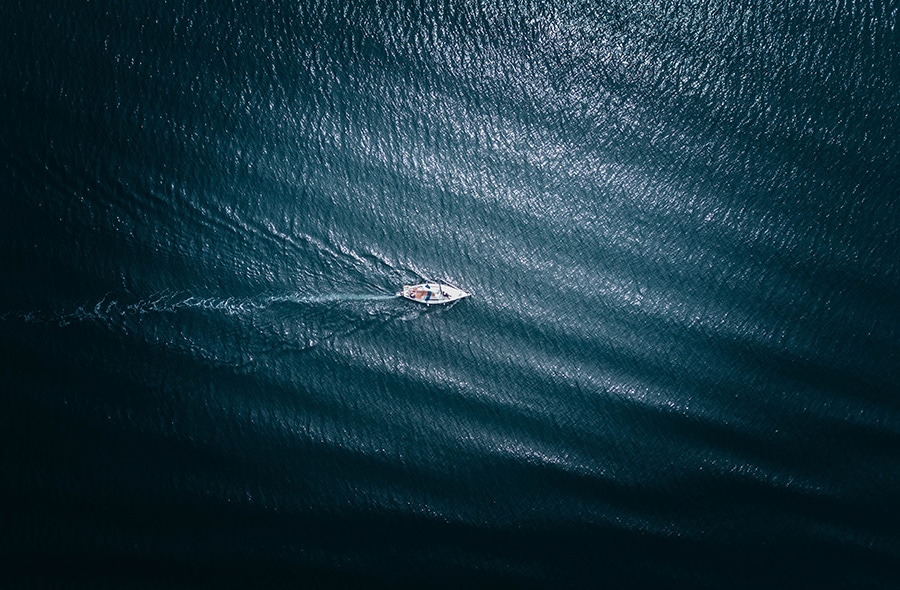 NASBLA & Coast Guard Approved
The BOATsmart! Arizona Boating Safety Course is officially recognized by the United States Coast Guard as meeting the standards of the National Recreational Boating Safety Program. BOATsmart!'s online Arizona Boating Safety Course is approved by the National Association of State Boating Law Administrators (NASBLA) as it meets and exceeds U.S. Boating Education Standards. NASBLA develops education standards for boating safety and represents boating law administrators in all 50 states and U.S. territories.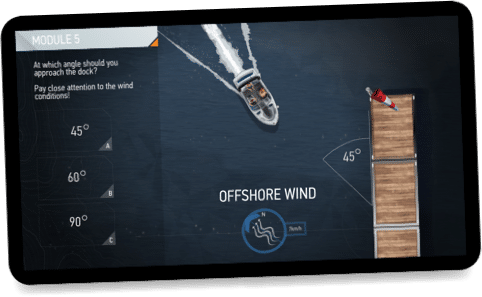 Watch, Listen & Learn
From anywhere, on any device at any time.
Our animated and narrated Boating Safety Course is perfect for all ages. Study from your Smartphone, Tablet or Desktop and switch between devices at any time. BOATsmart! automatically tracks your progress so you can study at your own pace.
ARIZONA BOATING LICENCE REQUIREMENTS
WHAT IS AN ARIZONA BOATING SAFETY CERTIFICATE
An Arizona Boater Education Card proves that you've obtained the knowledge needed to safely operate a motorized boat on Arizona waterways. Although no mandatory education is required for boat operators in the state of Arizona, it is highly recommended. 
WHERE CAN I GET MY ARIZONA BOATING LICENSE?
You can get your Arizona Boater Education Card by completing the Official BOATsmart! Course online. Once you successfully complete the online study guide and final exam, you can print a temporary card immediately.  BOATsmart! will mail your permanent card within 4 weeks. 
HOW OLD DO I HAVE TO BE TO GET A BOATER CARD IN ARIZONA?
There is no minimum age to complete the Arizona Boater Education Course and get certified,
AGE AND HORSEPOWER RESTRICTIONS
Children that are 12 years of age or under are not permitted to operate a boat of more than 8 horsepower, including personal watercraft (PWCs), unless:
They are directly supervised by a parent or guardian, or a person who is 18 years of age or older.

It is an emergency situation.
HOW LONG DOES IT TAKE TO GET MY ARIZONA BOATING LICENSE?
It takes a minimum of 3 hours to get your Arizona Boater Education Card online. Once you've completed the online course and official test, you can print a temporary card and go boating right away. Your permanent card will be mailed to you by BOATsmart! within 4 weeks.
CAN I GET REFRESHER LESSONS AFTER TAKING THE ARIZONA BOATING COURSE?
Yes. Arizona boaters can keep up-to-date on the latest boating regulations with the free BOATsmart! Knowledge Base. Learn about boating equipment requirements, navigation and right-of-way regulations and restrictions that may apply on Arizona waterways to be sure that you're safe and confident on the water.
DO I NEED A LICENSE TO RENT A BOAT IN ARIZONA?
Boat operators in Arizona are not required to obtain Boater Education Certification in order to rent a boat in the state, however it is highly recommended. 
Boating and alcohol in Arizona
ARIZONA BOATING AND ALCOHOL LAWS
It is illegal in the state of Arizona for any person to operate or be in actual physical control of a motorized boat that is underway while under the influence of an intoxicating liquor, any drug, or a vapor releasing substance which causes them to be impaired.
In Arizona, a person is considered to be under the influence if:
They have a Blood Alcohol Concentration (BAC) level of 0.08, but less than 0.15.  

An 'Extreme OUI' is operating with a BAC level of 0.15 but less than 0.20.

A 'Super Extreme OUI' is a BAC of 0.20 and higher.
FINES AND PENALTIES
A person convicted of operating a boat while under the influence can be fined up to $3,150 and can also receive a jail sentence of up to 45 days. Any subsequent violations are punishable by more severe penalties.
Arizona Boating Age Requirements

12 YEARS OF AGE AND UNDER 
Children that are 12 years of age or under are not permitted to operate a boat of more than 8 horsepower, including personal watercraft (PWCs), unless:
They are directly supervised by a parent or guardian, or a person who is 18 years of age or older.

It is an emergency situation.

Arizona's Boating Fines

Operating under the influence
Up to $3150

Operating with expired registration
$5

Failure to obey Law Enforcement
Up to $2500
General Arizona boating FAQs
WHO REGULATES BOATING LAWS IN ARIZONA?
The Arizona Department of Fish & Game is responsible for regulating boating laws in the state of Arizona. 
Boating Emergencies:
Call 911 to report a boating emergency in Arizona
WHO ENFORCES ARIZONA'S BOATING LAWS?
Boating laws in Arizona are enforced by:
Officers of the Arizona Game and Fish Department.

County deputy sheriffs.

Municipal officers.

Park rangers.

All peace officers of the state, counties and cities.

The Coast Guard (on federal waters).
Enforcement officers have the authority to stop and board boats to ensure they are in compliance with state laws.
When signaled by law enforcement, boat operators are required to stop their boat and allow officers to come aboard or alongside. The operator may be ordered ashore to correct any unlawful or unsafe condition. Any operator who willfully flees or attempts to elude law enforcement will be guilty of a class 5 felony.

How to register a boat in Arizona
ARIZONA BOAT REGISTRATION
All motorized boats must be registered in order to be legally operated, anchored, or moored on Arizona state waters.
Arizona has staggered registration, which is similar to registering a motor vehicle. The color and date on the registration decals indicates when the registration will expire.
Upon registration, boat owners will be issued an Arizona Certificate of Number, and registration decals. The Certificate of Number must be carried on board at all times during operation and must be available for inspection by law enforcement, if required.
An Arizona Certificate of Number and validation decals are obtained through the Arizona Game and Fish Department by submitting an application and paying a fee. 
THESE VESSELS DO NOT REQUIRE REGISTRATION IN ARIZONA
Human-powered boats.

Boats that have been federally documented by the Coast Guard.

Boats that are used solely as lifeboats.

Boats that have been registered in another state or country, that are operating on Arizona waterways for 90 consecutive days or less.
BOAT TITLING REQUIREMENTS
The Department of Motor Vehicles issues titles to all 1987 model year and newer boats which are at least 14 feet in length. The title is your proof of ownership which must be surrendered to a new owner at the time of transfer. If your boat is less than 14 feet, then the registration certificate serves as the proof of ownership and must be signed over to a new owner.
OTHER REGISTRATION INFORMATION
If a boat is sold or there is a transfer of ownership, the new owner is required to notify the Arizona Game Fish and Department within 15 days. If a boat owner changes their address, they are required to notify the Arizona Game and Fish Department (AZGFD) within 15 days of an address change.
If a boat is stolen, the event must be reported to law enforcement within 15 days of the theft.
If a Certificate of Number is lost or destroyed, boat owners may obtain a duplicate through the AZGFD for a fee of $2.
Boats in Arizona  are not required to be insured, however it is recommended.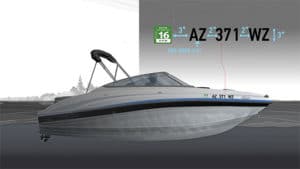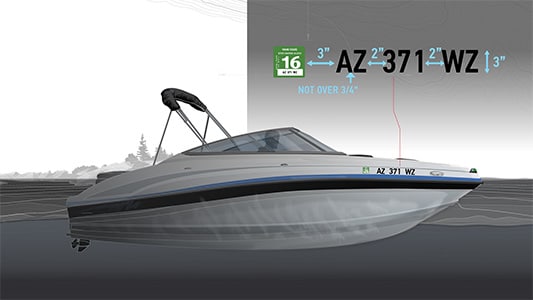 Boats in Arizona are required to correctly display their registration number and validation stickers. 
Registration numbers and stickers must be displayed as follows:
The number must be painted or permanently affixed to the forward half of each side of the boat where it can be easily seen (boat owners are not permitted to display any other numbers in this area).

The number must be read from left to right.

The number must be in vertical, block letters that are at least 3 inches high and in a color that contrasts with the color of the boat.

The numbers must be separated from the letters by a hyphen or by an equivalent space.

Validation decals must be affixed 3 inches from the registration number, on both sides of the forward half of the boat.

The same placement requirements apply to personal watercraft (PWCs).

ARIZONA'S LIFE JACKET LAWS
In Arizona, all boat types, except sailboards, are required to carry one, Coast Guard-approved, wearable life jacket in good and serviceable condition for each person on board and placed so as to be readily accessible for immediate use. Some rowing skulls and racing shells are also exempt. 

TOWED SPORTS
Any person being towed behind a boat is required to wear a Coast Guard-approved, lifejacket, or a buoyant belt.

Personal Watercraft
Operators of personal watercraft, passengers and anyone being towed behind a vessel must wear a U.S. Coast Guard-Approved Type I, II, III or V PFD. Inflatable lifejackets are excluded.

CHILDREN UNDER 12 YEARS OF AGE
In Arizona, passengers 12 years of age and under are required to wear a Coast Guard-approved, Type I, II or III lifejacket when on board any boat that is underway.
Boating Restriction Regulations
BOAT SPEED LIMITS AND OPERATION IN RESTRICTED AREAS
It is illegal to operate a boat in excess of the posted speed limit or at a speed greater than is reasonable and prudent under the prevailing conditions and potential hazards. In every event, speed shall be so controlled as may be necessary to avoid colliding with any person or other boat, swamping other boats or otherwise endangering the lives or property of other people.
RECKLESS OR NEGLIGENT BOAT OPERATION
It is illegal in the state of Arizona to operate a watercraft in such a manner as to show willful or wanton disregard for other persons or property.
Examples of reckless or negligent operation include:
Weaving through congested boat traffic.

Operating a boat in a restricted area.

Riding on the gunwales, transom or decked over bow of a boat that is operating at greater than no wake speed.

Operating with a  passenger or passengers on the bow, in a manner which obstructs the view of the operator.

Chasing, harassing or disturbing wildlife.

Platform dragging (or teak surfing).
NON-NATIVE AQUATIC SPECIES
Aquatic hitchhikers (also known as nuisance and invasive species):
Are not native to Arizona.

Include both plants (such as salvinia, hydrilla), animals (such as zebra mussels, crayfish and New Zealand mudsnails) and diseases and pathogens.

Cause physical and economic damages to our recreational, commercial, environmental, cultural or historic resources and/or create public health problems.

Can impair water resources. Water is life in the desert and aquatic nuisance species that impair water resources, wildlife health, water quality or water conveyance, threaten us all.
AIS are a serious threat to Arizona's recreational boating and angling, as well as the state's water and electrical infrastructure. Arizona's boaters must understand and comply with efforts to contain and prevent AIS from spreading to other waterways.
HELP PREVENT THE SPREAD OF NON-NATIVE SPECIES
Preventing the spread of aquatic nuisance species is the most environmentally sound and cost-effective method for battling aquatic hitchhikers. Prevent Aquatic Nuisance Species by doing the following:
Clean all recreational equipment before and after using all waters.

Do not release or put plants, fish or other animals into a body of water unless they came out of that body of water (also do not release them into storm drains, because most storm drains lead to bodies of water or wetlands).

Do not release unused bait into waters (make sure to check regulations before using bait).

Do not release anything from an aquarium into any body of water or storm drain.
Infestations of non-native species
Report new infestations of non-native aquatic species to the U.S. Fish and Wildlife Service at (209) 946-6400.
ARIZONA AIS REPORTING
Report sightings of aquatic nuisance species to your local Arizona Game and Fish Department office or call toll-free to: (877) STOP-ANS or (877) 786-7267.
The Grand Canyon State, Blue Waters, Good Times

Arizona Boating Destinations
Boating in Arizona
Although made famous for it's southwest desert landscapes, cactus plants and those red (dry!) rocks of the Wild West, Arizona has actually become a serious destination for boaters and water sports enthusiasts! Have you ever checked the weather forecast for a week in Arizona?! Sunshine for days, and days, and days … perfect boating conditions!
So whether you're checking out the Grand Canyon, beautiful Lake Powell, a big city like Phoenix or Tucson, or one of Arizona's popular tourist destinations like Sedona or Flagstaff, there's a place and a water venue for everybody in Arizona! So get out there, hit the water and soak in some of that Arizona sunshine.
ARIZONA STATE PARKS
Arizona State Parks offer outdoor enthusiasts shimmering lakes, steep canyons and cliffs, towering pines and spectacular views of a landscape painted red by the sun and dotted with a variety of cacti. It's all pretty spectacular, no matter which park you visit.
Be sure to check out the state's 28 state parks while you're visiting Arizona. Go boating, hiking, paddling, ATVing…whatever! The activity options in Arizona's parks are limitless! Just remember, if you'll be visiting one of the 5 U.S. forests in Arizona, check out a Travel Management Map to show you which trails are open and which are closed. Know before you go!
ARIZONA'S BEST BOATING LAKES
It depends on which area of Arizona you'll be visiting, but the state has over 30 lakes and several riverways that are all popular choices for both boaters and paddlers. To help you decide where to launch your boat, here's a list of some of Arizona's most popular boating destinations.
Helpful resources for boating in Arizona