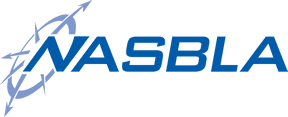 GEORGIA'S BOATER EDUCATION CARD,
We Make it Simple
Your Official Georgia Boater Education Card in 3 easy steps.
Start the boating course now and be on the water today.
Step 1
TAKE THE BOATING COURSE ONLINE
Take the official BOATsmart! Course online and watch, listen and learn on any device. Our animated, narrated and brilliantly illustrated boating course puts you right in the Captain's seat. Everything you need to pass the Georgia  Boating Safety Test and boat with confidence included.
Made for boaters, by boaters
Designed for all ages and abilities
Study at your own pace, your progress is tracked automatically
Optimized for all devices, including mobile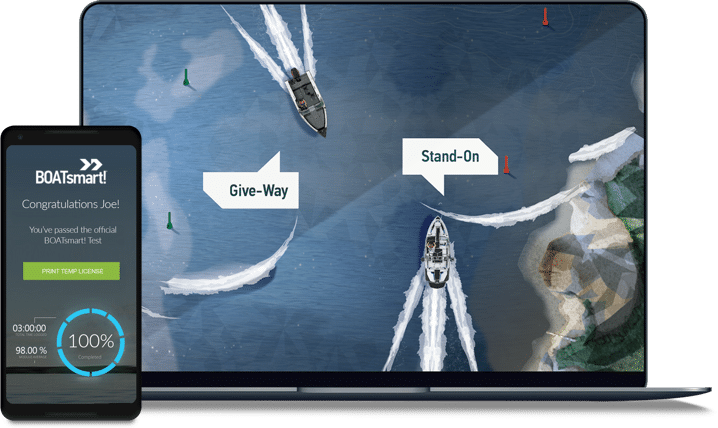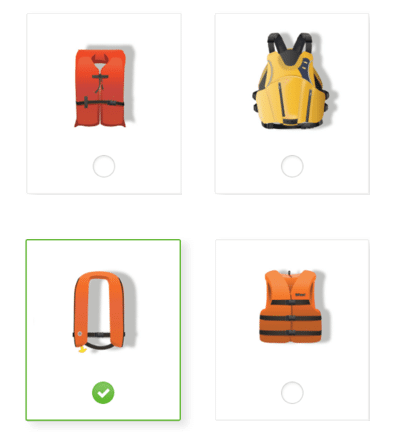 Step 2
PASS THE OFFICIAL TEST
The Georgia Boating Safety Test is open-book and available to boaters of all ages.
State Approved Georgia Boating Safety Test

No minimum age
Unlimited free test retries included
Step 3
PRINT YOUR TEMP CARD
Yeah buoy! You're a captain now! You've now gained the knowledge to boat with confidence. Immediately upon passing the test, you'll be able to print a temporary Georgia Boater Education Card. Your permanent card is mailed at no charge.
Print your temporary Georgia Boater Education Card immediately

Receive your official permanent card within 4 weeks

Your Georgia Boater Education Card is good for life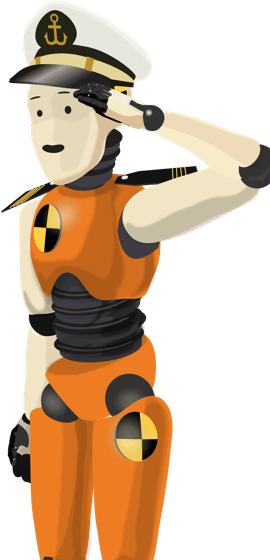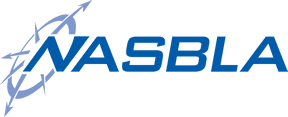 GEORGIA'S OFFICIAL ONLINE BOATING SAFETY COURSE
The BOATsmart! Course is approved by the Georgia Department of Natural Resources, Law Enforcement Division and includes all the knowledge required to obtain your Georgia Boater Education Card. Take the boating course online at your own pace with easy-to-understand, step-by-step lessons.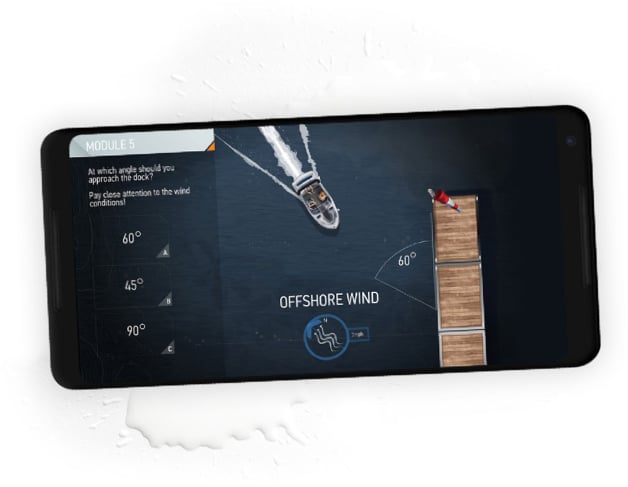 Excellent!
BOATsmart! has a rating of 4.4 out of 5 stars based on 8086 ratings and reviews.

Step Inside the
Boatsmart! Course

The BOATsmart! Course includes all required NASBLA syllabus standards  in an easy-to-navigate and understandable format, organized into 6 learning modules and practice quizzes that help you test your comprehension prior to the final test.
1.
BOATING BASICS
The Boating Basics
Parts of a Boat and PWC
Boating Terminology
Georgia Age and Horsepower Restrictions
Georgia Mandatory Education Requirements
Georgia Registration and Titling Requirements
Boat Capacities
Reciprocity Regulations and Federal Documentation
Boat Theft Prevention
Module 1 Summary and Quiz
2.
BOATING EQUIPMENT
Life Jackets and Personal Flotation Devices (PFDs)
Life Jacket Classifications
Flotation Aids and Throwable Devices
Georgia Life Jacket Laws
Life Jacket Laws for Children
Fire Extinguishers and Federal Requirements
Navigation Lights and Requirements on Boats
Sound Signal Devices and Requirements
Visual Distress Signals and Requirements
Module 2 Summary and Quiz
3.
GETTING ON THE WATER
Local Weather and Water Conditions
Weather Reports and Stormy Weather
Boat Maintenance
Developing a Float Plan
Boat Storage
Towing and Trailering
Launching and Loading
Fueling a Boat or PWC
Docking and Casting
Anchoring your Boat
Module 3 Summary and Quiz
4.
SAFE BOAT OPERATION
Environmental Laws and Regulations
Toxic Substances
Georgia Waste Disposal Laws
Georgia Aquatic Nuisance Species
Alcohol and Drug Use
Georgia Laws for Operating Under the Influence
Boater Common Courtesy
Georgia Laws for Negligent/Reckless Boat Operation
No Wake and Limited Wake Restrictions
Homeland Security Measures
Georgia Muffler and Noise Level Laws
Georgia Law Enforcement Authority
Module 4 Summary and Quiz
5.
NAVIGATION THE WATERWAYS
Navigation Rules
Georgia Boat Speed Limits and Restricted Areas
Position and Course of Direction
Right-of-Way
Navigation Sound Signals
Navigating at Night
Navigation Lights
Lateral Marking System and Buoys
Red Right Returning
Non-Lateral Marking System
Intracoastal Waterways
The Western Rivers System
Module 5 Summary and Quiz
6.
EMERGENCY PREPAREDNESS
Diving, Snorkeling, Towed Sports
Use of Hand Signals
Boating Hazards and Dangers
Safe PWC Operation
Safety Tips for Paddlers
Capsizing and Person Overboard
Running Aground
Fire Emergencies
Hypothermia and Cold Water Immersion
Hunters and Anglers as Boaters
Rendering Assistance and Reporting Emergencies
Georgia Boat Accident Reporting Requirements
Module 6 Summary and Quiz
"GREAT COURSE! COVERED EVERYTHING NEEDED. HIGHLY RECOMMEND BOATSMART!"
– Glenn R, Gainesville, GA –