Licensing your Boat
Unlike the boat license that you keep in your wallet, a Pleasure Craft License is the set of ID numbers displayed on your boat which can be used by Search and Rescue personnel to identify your vessel. A Pleasure Craft License is different than a Vessel Registration, which provides proof of ownership (legal title), a unique name and official number for your boat and the right to use your boat as security for a marine mortgage.
The Small Vessel Regulations require that all pleasure craft of all sizes equipped with one or more primary propulsion motors of 10 hp (7.5 KW) or more must be licensed, unless they are registered. The regulation applies to all boats mostly operated or kept in Canada. You can obtain a 10 year license for free from Service Canada. You must renew the license after the 10 year period has expired. If your boat is already licensed, you should make sure that it is in your name and that your contact information is up-to-date. Renewal of your address or contact information does not qualify as a renewal of your pleasure craft license.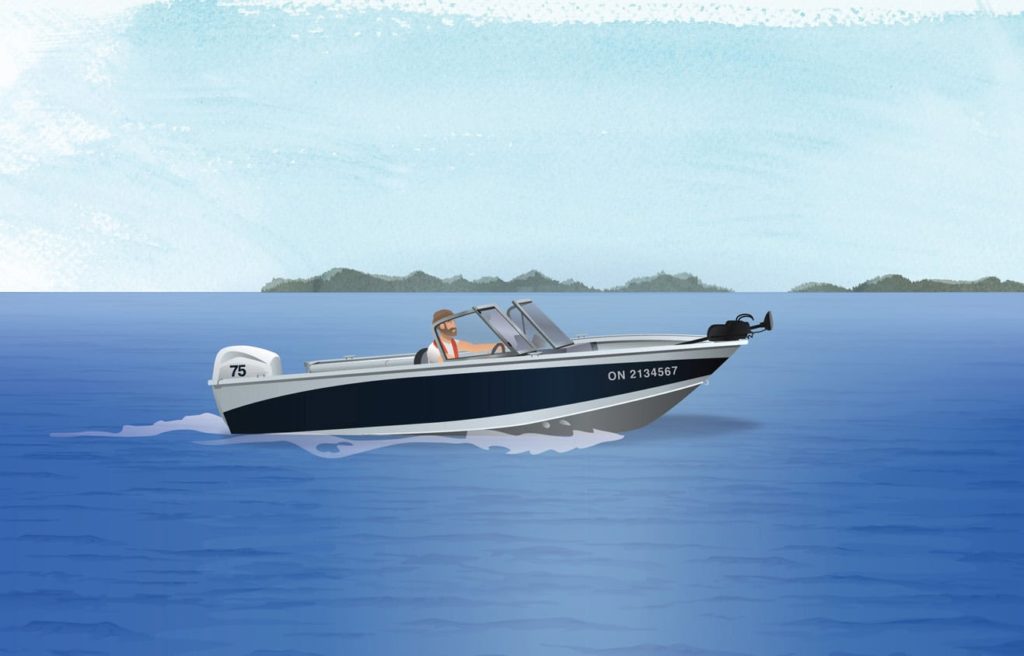 Transferring Ownership of your Boat
It is mandatory to report a change of name and address to the Service Canada Pleasure Craft Licensing Centre. If selling a pleasure craft, you must transfer ownership by signing the reverse side of your vessel license and providing it to the purchaser. The purchaser is obligated to complete and sign the reverse side of the vessel license and submit it to Service Canada for transfer within 90 days. An owner may operate the pleasure craft for 90 days after the date of change of name or address, if documents establishing the date of change of name or address are on board. Owner information must be kept up-to-date, including name and address changes.
Registering your Boat in Ontario
There are costs involved in registering your vessel, but if you plan to operate your boat in international waters registering you vessel provides the benefit of proof of ownership, in addition to the benefits noted above. In order to register your boat you will be required to select at least 3 names for your vessel (of which one will be approved), pay a registration fee, complete an application for registry, produce evidence of ownership/title and statement of qualification for vessel registration, as well as have your vessel measured for tonnage.
For more information about Pleasure Craft Licensing and registration visit the tc.gc.ca/eng/marinesafety or call 1-800-267-6687.
As a Canadian pleasure craft operator, you are expected to know the rules and regulations that govern Canada's waterways. You are responsible for equipping yourself with the right equipment and for operating your boat in a safe and courteous manner. You are also responsible for ensuring the safety of your passengers and other boaters.
Learn more about being a safe and responsible boater by obtaining your Pleasure Craft Operator Card and completing the Canadian Safe Boating Guide.