Summer is around the corner, and you're itching to get out on the water to enjoy those stinking hot days that us Canadians dream about all winter. But this year is different. This year you have been scrolling through Instagram and have seen people doing one or maybe even TWO flips on their wakeboard! You think to yourself, "alright I have to try this". This summer you're not just getting on the water, you're getting on a wakeboard.
WHERE TO START
Here comes the question, what the heck do I need to start? Well, not too much. Although us Canadians are used to bundling up for most things we do, you'll definitely be able to shed a few layers for your wakeboarding adventure. First, you are going to need to get your hands on a wakeboard and rope. Maybe your friend has one you can borrow, or maybe you will have to go make the purchase yourself, but it will make your life a lot easier if you have a wakeboard and bindings that fit. Wakeboards are sized to the weight of the rider, and bindings follow shoe sizing. It's worth taking a look online at some sizing charts before taking the plunge into your first board, but we'll leave that discussion for the Wakeboarding Gear Guide blog.
SAFETY FIRST
So now you have your wakeboard, bindings and rope, the most important piece comes next. Yes, you will need a boat (or a PWC will work), but that's not what I am referring to. You need a Coast Guard approved Life Jacket. Safety is the most important part of any towed watersport and having the required safety gear is a must. Make sure your lifejacket is sized correctly, and you're ready to strap on the board! All you'll need now is a driver, and spotter.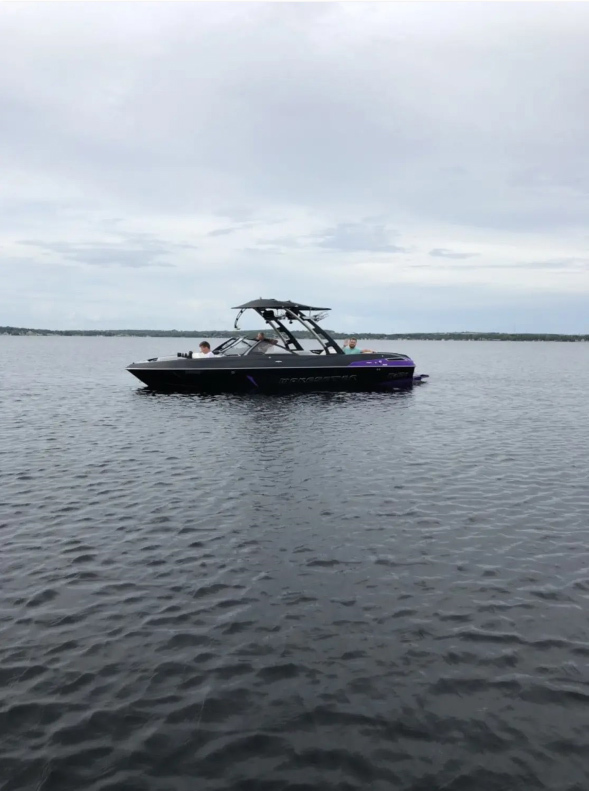 "SAFETY IS THE MOST IMPORTANT PART OF ANY TOWED WATERSPORT AND HAVING THE REQUIRED SAFETY GEAR IS A MUST. "
KNOW THE WAKEBOARDING HAND SIGNALS
Now you're on the boat, and you are pumped! Before you jump in the water for your first wakeboarding attempt, there are some important hand signals to know which will allow you to communicate with your spotter in the boat. A thumbs-up means you are telling the boat to speed up. Thumbs down means slow the boat down. A hand signal with a flat hand, waving left to right in front of your neck, means stop the engine. And finally, if you happen to take a fall, it is helpful to tap your head with a flat hand to signal to the boat that you are OK.
You'll want to start with a rope length of about 60ft. This is a comfortable area so that the boat can go slow enough that if you fall it shouldn't hurt, and the wake is still clean enough that you can cross side to side once you've mastered getting up.