Find a Lifejacket That ACTUALLY Fits This Boating Season!
Buying a new life jacket should be like buying a new pair of shoes… seriously—try it on, wiggle around in it and make sure it fits comfortably. To the same tune, we feel that wearing a life jacket should be like wearing a seatbelt when driving a car… always 'buckle up' before you 'start your engine'. It makes sense, right? You buckle up for the safety of you and your family during transportation. So, the same concept should apply when you're boating! After all, you need a boating license just like you need a driver's license. So this year, make wearing a life jacket while boating as instinctive as buckling up your seatbelt while driving!
Life Jacket Shopping Tips!
Making the right choice when buying a flotation deivce is essential to your safety on the water. Don't just grab the vest with the neon discount sticker. Look at several styles and read the tags and labels carefully. Think about what type of boating activities you'll be participating in: Do you and your family love to waterski behind a towing boat? Are you a fisherman who plans on catching bass from a tin fishing boat? Will you be operating a Jet Ski or standing on a SUP board? By identifying your favorite water sport activities and your level of activity, you'll better understand what type of life jacket will be the most comfortable for you to wear while you're boating. So try it on, buckle or zip it up and get moving so you'll know how your devicefeels before you take it home with you. Have your family do the same! Get your kids to bust a move in their life jackets while in the store! That should give them a good giggle. Oh, and don't forget about your pooch! Dogs need flotation devices too!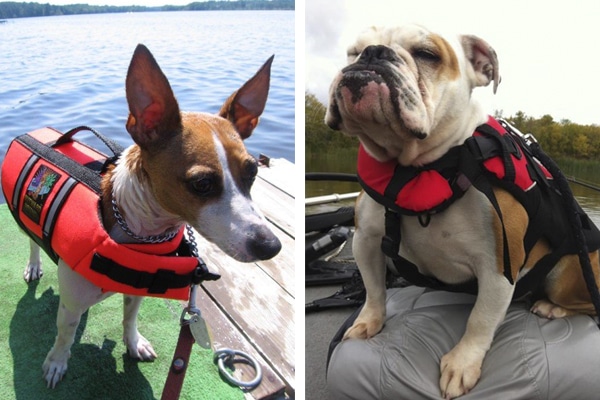 The Paddle Factor!
Paddlers are active boaters (straight up: kayak=fitness) and for this reason, they prefer compact, inflatable life jacket styles that won't get in the way while they're paddling their canoe, kayak or SUP board. For example, some life jackets have been designed specifically for kayakers and there are inflatable waist belts that have been designed specifically for Stand Up Paddlers (SUP boarders). These specialized life jackets are ideal for paddlers because they don't interfere with their dynamic paddle movements.
Motorized boaters have access to a WIDE variety of Canadian-approved life jackets! So if this is your boating category, the options are limitless. Personalize your choice and make it work for you. Choose a life jacket that fits as well as your favorite flip-flops do and you'll be more likely to wear it every time you hit the water.
The Perfect Fit in 5 Steps! 
1) Read the tag. Look for the sizing and approval info. Not all vests are Canadian-approved (many wakeboarding vests are not)!
2) Think about your boating activities and what type of life jacket you'll be most comfortable in during those activities.
3) Make sure your life jacket has a small amount of room in the area covering your chest to allow some water between your chest and the life jacket. Aim for a snug fit, but be able to comfortably move your arms.
4) Check that your chest doesn't feel too restricted. You should have enough space to be able to take a deep breath.
5) The final step is to make sure all of the zippers, fasteners, buckles and straps are secured and correctly adjusted.
Buying a Child's Life Jacket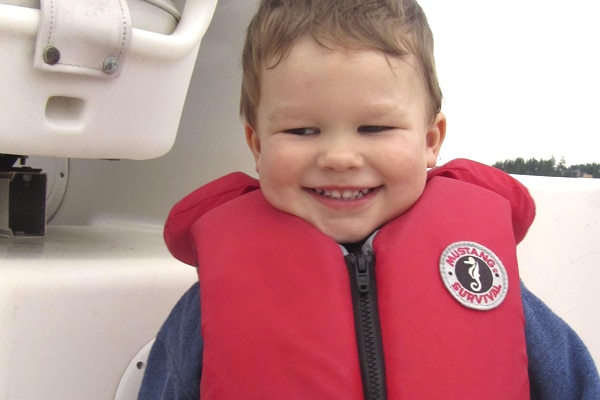 No big surprises here – use the same procedure to find the correct life jacket fit for your child. Read the label, identify the weight categories, have the child try on the life jacket while in-store and fully secure the life jacket (including the strap between the legs). Make sure your child is comfortable in their life jacket or they WON'T want to wear it. Seriously, save yourself from an epic dock battle/screaming match and make sure your child will be comfortable in their life jacket before you go boating! Maybe this epic tantrum video will inspire you to take the time to do some trying-on while in-store!

Remember parents, kids outgrow their life jackets as quickly as they outgrow their shoes. Don't try to make it work if it's a little too small (or too big). The life jacket either fits… or it doesn't.

Speaking of your child's safety, remember that waterwings, boogie boards and inflatable sea turtles are NOT a substitute for life jackets and they are NOT designed to save lives. To help keep your kids safe on the water, you should always buckle up their life jackets, consider signing them up for swimming lessons (Canadian Red Cross)  and have your family take the BOATsmart! Safe Boating Course!
Stay safe & happy boating!