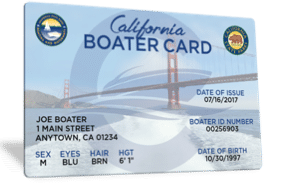 California Boater Card
Frequently Asked Questions
How long does it take to get my replacement card?
Replacement California Boater Cards are available from the California Division of State Parks Division of boating and Waterways at https://californiaboatercard.com/replacement/. Upon submitting the proper application and fee, cards take about 4-6 weeks to be processed. Once the application is approved. Cards will then arrive in the mail within 60 days.
What is the fine for not having the card?
Boaters caught without a Boater Card may receive a fine of up to $100 for the first conviction, $250 for the second conviction and $500 for the third.
What do I do if I've lost my temporary education certificate (proof of course completion)?
Once you place an order for a replacement Boater Card, the Department of Parks and Recreation Division of Boating and Waterways will process your application, and email you a temporary card while you wait for your permanent card to arrive by mail. 

California State Parks, Division of Boat and Waterways
One Capitol Mall, Suite 500
Sacramento, CA, 95814
https://dbw.parks.ca.gov/
Trusted from coast-to-coast, California approved
The official BOATsmart! California Boating Safety Course is approved by the California State Parks, Division of Boat and Waterways, the National Association of State Boating Law Administrators (NASBLA) and recognized by the US Coast Guard.
BOATsmart! has provided online boating safety education across North America since 2013. Our courses are designed and developed by real boaters, subject matter experts and instructional design educators. We've certified more than 650,000 boaters online and are proud to be the choice of boaters from coast-to-coast.