What's your favorite way to spend a day on the water in Indiana, the 'Hoosier state'? Rip up a lake in your wakeboard boat? Glide along the sandy shores of Lake Michigan on your SUP board? Capture an epic tube wipeout with your GoPro camera? Whatever your favourite type of watersport is, if you're visiting Indiana, you'll have no trouble finding an awesome waterway for your boating activities!
So, will you be visiting Indiana Dunes State Park and boating on Lake Michigan? Or hitting up the great museums and shopping in busy Indianapolis or Fort Wayne? Maybe you'll be visiting the popular boating and fishing waters of the south-central Bloomington area? Truth is, it doesn't really matter what area of the state you'll be visiting, Indiana is a paradise for outdoor enthusiasts.
To help you plan out your Indiana boating trip, we've listed a few of our favorite lakes to go boating and paddling on in Indiana. But don't let our list limit your travels – there are endless miles of shoreline in Indiana for swimming, whitewater rafting, tubing, kayaking and boating! Enjoy, boaters!
Remember, not all lakes will have boat access ramps and boat launching areas. Some launch ramps may even require a fee from you. So when you're preparing to go boating and checking over your life jackets, safety gear, water sports equipment and the weather forecast, make sure you also research the lake and know where you can get water access before you go!
Our favorite boating lakes in Indiana include Monroe Lake, Lake Lemon, Lake Tippecanoe, Griffy Lake, Patoka Lake and Lake Michigan.
Lake Lemon is located 10 miles northeast of Bloomington in the beautiful rolling hills of south-central Indiana. It was originally build as a source of drinking water for the nearby populations up until the late 1960s, however today attracts boaters and anglers from afar. Today it still serves as a backup supply of drinking water for Bloomington.
Lake Lemon is the 11th largest lake and 7th largest public reservoir in Indiana with a size of 1,650 acres, 24 miles of shoreline, and an average depth of 9.7 feet.
Tippecanoe Lake is a large, glacially created lake in Leesburg, Kosciusko County, and at 123 feet deep is the deepest natural lake in the state. It's located about two miles west of the town of North Webster.
The lake is largely used for recreational purposes such as fishing, boating and skiing, and is surrounded mostly by residential housing.
Tippy Dance Hall, a prominent historical property, can be found on the southwest shore of the lake. It's a unique building which has hosted many famous musical acts in the past including Duke Ellington and Louis Armstrong.
Griffy Lake is part of the Griffy Lake Nature Preserve, a protected area managed by the Department of Natural Resources.
The lake was drained in 2011-2012 to facilitate repairs to the dam and spillway. Largemouth bass, redear sunfish, bluegill and channel catfish were reintroduced to Griffy Lake in spring 2014.
Camping, ground fires, and overnight parking are not permitted at Griffy Lake.
Adults are required to have a valid Indiana fishing license to fish at Griffy Lake however note that fishing licenses are not available for purchase at Griffy Lake.
There are several hiking trails, ranging in difficulty from easy to rugged, at Griffy Lake Nature Preserve. Please respect the fragile environment of Griffy Lake Nature Preserve by remaining on marked trails. Dogs and other pets must remain on a leash at all times while in the park. Mountain biking, horseback riding, and off-road vehicles are strictly prohibited.
Patoka Lake offers lots of rentals. You can rent power boats, cabins, houseboats and more. There are also plenty of sights and attractions to experience. We all have different ideas about what is fun to do on vacation. Luckily, the Patoka Lake area has something for everyone to enjoy.
Indiana's State Parks offer historic sites, geologic wonders, camping, OHV trails and sparkling lakes for boaters and paddlers, among many other outdoor activities! These beautiful parks are here for you to use – so get out there and enjoy them! Feel like getting active? Go for a hike, drop a fishing line, or plan a kayak trip with your friends. Looking for some R&R? Relax on the white sand beaches of Indiana Dunes State Park. Feeling adventurous? Explore the deep, sandstone ravines of Turkey Run State Park!
If you plan on boating in a state park, find out where you will have boat access and launch ramps before you head out with your boat trailer in tow. If you plan on fishing in any of Indiana's state parks (Summit Lake State Park is a good one for anglers!) make sure you learn up on Indiana's fishing regulations, fishing license requirements and boating license requirements before you go!
Indiana has become a very popular fishing destination in the U.S. all year-round! Popular sport fish like bluegill can be found in Newton County's J.C. Murphy Lake, coho salmon can be found in Lake Michigan and crappie can be pulled from the Monroe Reservoir!
What else can you reel in when fishing in Indiana waters? Indiana anglers can reel in anything from sturgeon, salmon and trout, to several types of bass, steelhead, panfish and carp. Do you know how to clean a fish? Learn how by checking out the awesome instructional videos on the Indiana Department of Natural Resources website!
The Indiana DNR holds license-free fishing days during the year. Awesome, right? Just remember to learn up on Indiana's Fishing Regulations and Boating Laws before you fire up a boat engine or cast a line. Always know before you go!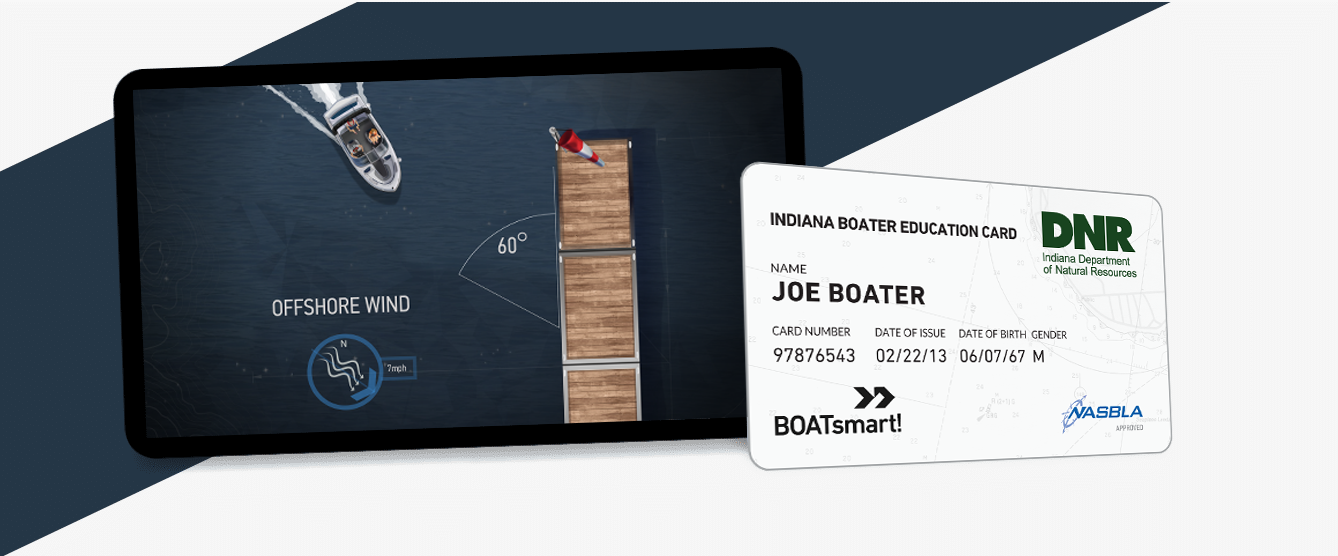 Get your Official Indiana
Boating License
The Official NASBLA and Indiana State-Approved Boating Course, Test & License.
Get your Official Indiana
Boating License
The Official NASBLA and Indiana State-Approved Boating Course, Test & License.