In the Lone Star State, being out on the water is a part of life year-round. With thousands of lakes, hundreds of miles of coastline and sunny weather most days of the year, Texas is one of the biggest states for boating in the nation.
While Texas is full of opportunity for every boater, it's important to boat safely and responsibly. We're telling you everything you need to know about boating in Texas, from how to do it legally to our favorite places to boat, swim and fish.
How to Start Boating in Texas
In Texas, you'll need to make sure you're properly licensed and that your boat is properly registered before you take it out on the water. The State of Texas requires that all boaters born on or after September 1st, 1993, must acquire a Texas Boater Education Card to legally operate a motorized watercraft. 
You'll also have to register your boat with the state. To do so, you'll need to submit the following information via mail or in person at a Texas Parks & Wildlife office/your local tax office:
Required application fees
Supporting information, including proof of ownership
The Best Spots for Fishing and Boating in Texas
Planning a boating trip in Texas? With over 190 lakes to enjoy, Texas offers a plethora of water fun for its visitors. Here are a few of the best boating and fishing spots in Texas.
Located at the confluence of the Washita and Red Rivers, Lake Texoma is one of the largest lakes in the country. It is also home to several small islands.
It is an extremely popular place for boating in Texas, with around 6 million people heading there each year. Visitors enjoy sailing, water skiing, windsurfing and fishing. The clear, emerald green waters are home to around 70 species of fish. Here you can expect to find freshwater fish such as catfish and white crappie and the lake is known for its stripped bass, or stripers.
There are over 12 marinas sitting around Lake Texoma, as well as two wildlife refuges and hundreds of camp grounds. During spring break Texoma is an extremely popular destination for college students. They flock to the water to enjoy water skiing, boating, sailing, windsurfing, fishing, jet skiing, and kayaking.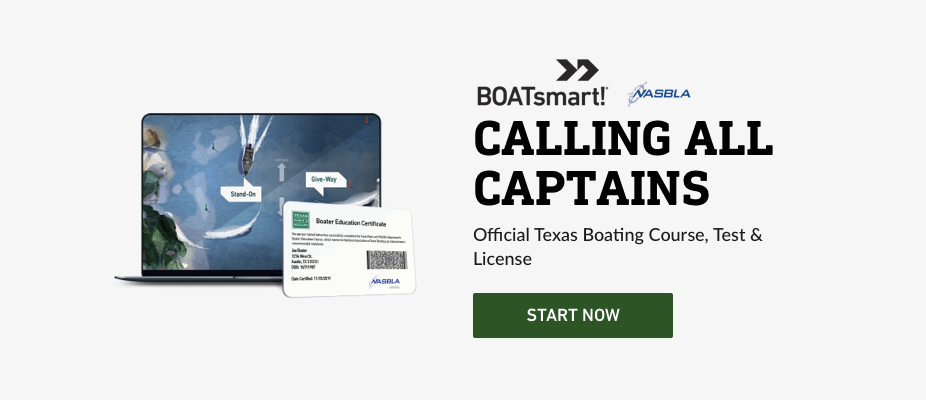 Lake Travis sits on the Colorado River in central Texas. The lake was formed in 1942 during the construction of the Mansfield Dam near Austin. It stretches for 60 miles and is the largest lake in the Highlands Lakes region, having a surface area of 7,660 hectares.
This lake is one of the most popular in Texas for recreational activities. Boating, scuba diving and swimming are popular activities enjoyed at the lake. It is also home to numerous fish species, like bass, catfish and sunfish – making it a top spot for both fishing and boating in Texas. 
Lake Travis' clear waters, scenic surroundings, and close proximity to Austin make it a beautifully convenient location for locals and visitors alike.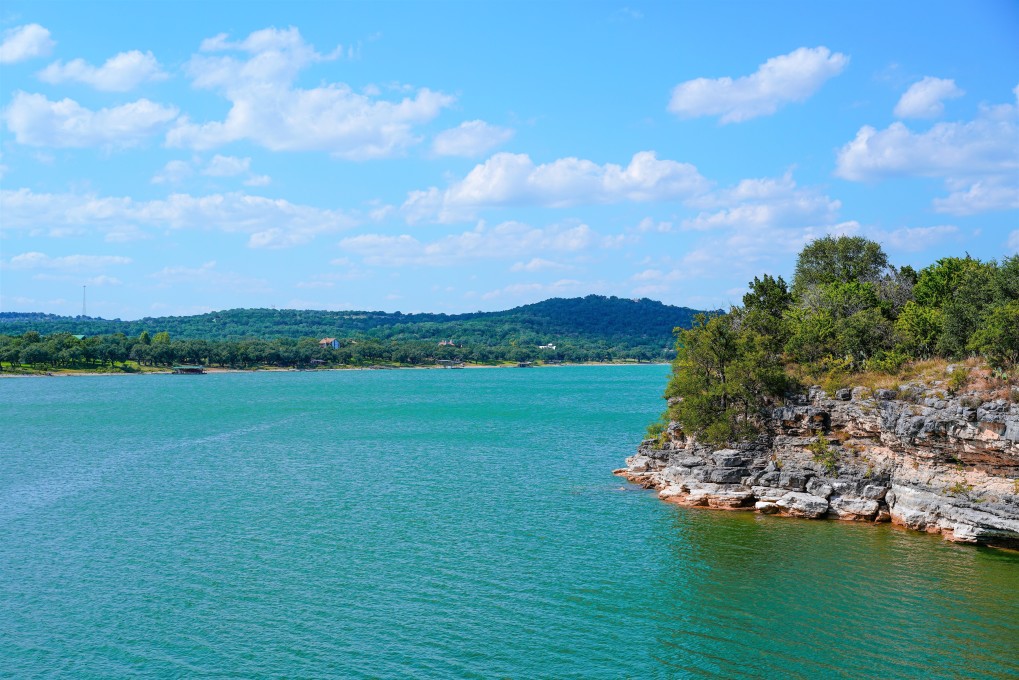 Located 60 minutes north of Houston, Lake Conroe runs through the East Texas Piney Woods forests, and is another perfect opportunity for boating in Texas. It is a beautiful 21,000-acre lake that is surrounded by trees, hills and magnificent houses. This man-made lake was created in 1973 as the reserve drinking water supply for the City of Houston.
The 26-mile long lake includes over 10 marinas and is a top spot for water and non-water activities. Enjoy sailing, fishing, hunting, golfing, swimming, camping, hiking, waterskiing and jet skiing.
Sam Rayburn Reservoir is located in Deep East Texas. It is a 288-mile long lake and is the largest lake completely in the state of Texas. This Corp of Engineers lake was created by impounding the Angelina River and several bayous.
The lake's surroundings are very natural and are made up predominantly of trees and rolling hills, creating a stunning backdrop. The wind can cause huge waves as it blows down the lake, so always ensure to check weather conditions before hitting the water. The reservoir offers largemouth bass, catfish and crappies and is a great spot for freshwater anglers.
There are a number of campsites and marinas on the shorelines of the lake. There is also the Rayburn Country Resort, which is home to a top notch golf course. Visitors that would prefer to stay dry can also go hiking through the Sabine National Forest.
With 114,500 acres of surface area, Sam Rayburn Reservoir is a fisherman's sanctuary, where massive catfish, bass and crappie can be caught all year long. The reservoir is even a location for the Big Bass Splash. The Big Bass Splash is the largest amateur fishing tournament in the state!
Lewisville Lake is located in North Texas near Lewisville and is a favorite spot in the summer months. It boasts plenty of shoreline that is home to camping facilities, restaurants, golf courses and lodges. The lake is also a great spot for water sports! Visitors can enjoy a variety of activities, including water skiing, sailing, sailboarding, and more.
Lewisville Lake is a great place for fishing, with catfish and crappie being the dominant game fish found in the lake. In addition to the boat and watercraft rental facilities, a popular destination for those looking for a good time is Party Cove. Here, people tie their boats together, listen to music, and enjoy the surf and sun. Before joining the party, make sure you've brushed up on Texas boating and drinking laws.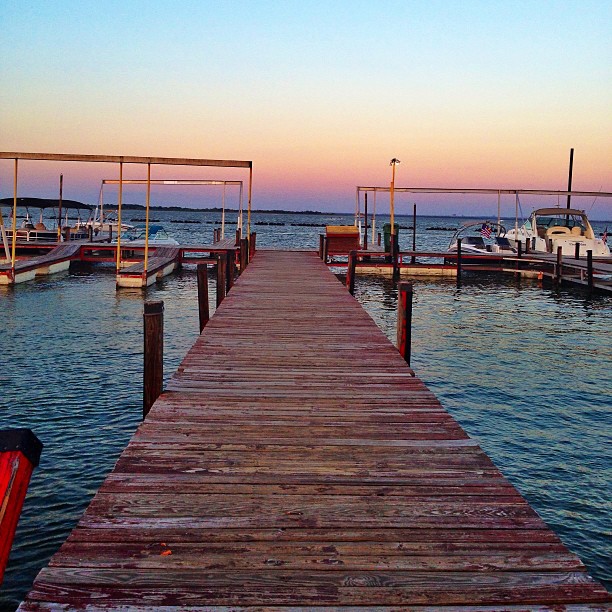 Lake Amistad is a beautiful reservoir that sits where the Devils River meets the Rio Grande. It was formed in 1969 after the construction of the Amistad Dam, right along the Mexican border. The middle of the lake is actually the border between Mexico and the US. The lake is surrounded by rocky desert with rolling hills and sheer cliffs, and is one of the deepest in Texas.
Water skiing, scuba diving and swimming are just a few of the water-based activities that are enjoyed at Lake Amistad. There are plenty of boat ramps found around the 340-metre lake, and its natural surroundings provide visitors with the chance to go hiking and camping. Note that there are no boat rental or fueling stations available along the lake, so be sure to come fully prepared!
This massive lake encompasses nearly 70,000 surface acres, which are shared between Mexico and the United States. Boaters and swimmers can enjoy both open waters as well as steeply walled canyons. The protective coves offer ideal fishing spots.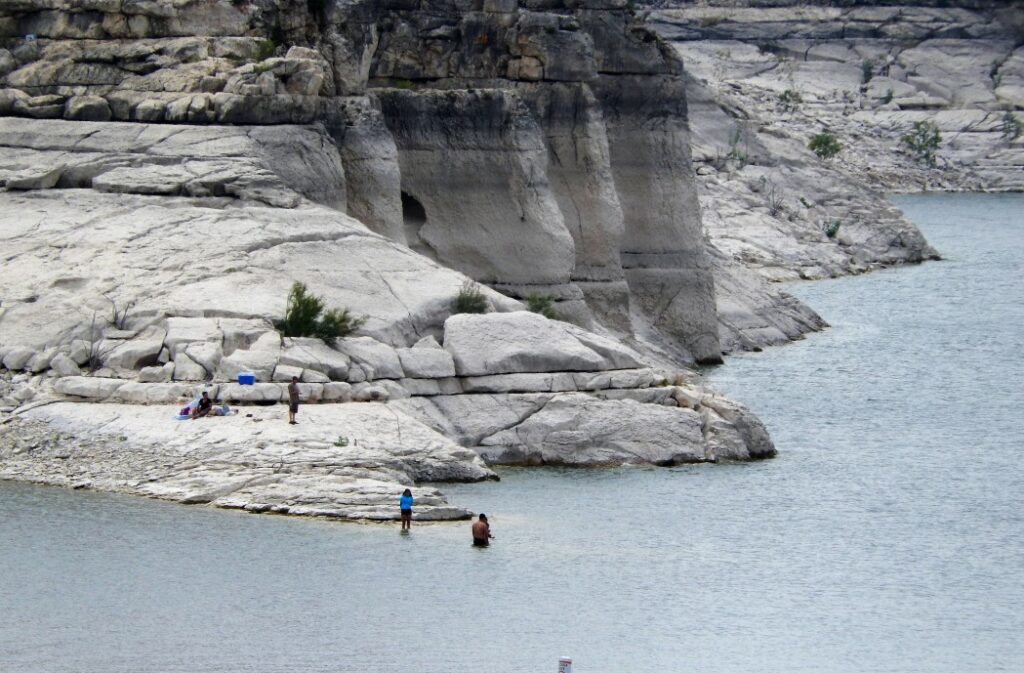 Popularly known as PK, Possum Kingdom Lake can be found around 40 minutes north of Fort Worth. It sits on the Brazos River and is best known for being home to the spectacular Hell's Gate cliffs. It is also home to Possum Kingdom State Park, which is a popular spot for boating and fishing. Possum Kingdom Lake is one of the most picturesque lakes in Texas thanks to the cliffs and its clear water.  The lake terrain offers rolling hills, lots of trees, and steep sheer bluffs.
Hell's Gate consists of two towering cliffs that stand as "gates" to the entry to the cove on the south end of the lake. This is a popular spot to drop anchor and enjoy the calm water and social atmosphere. On the Fourth of July, boaters head out to Hell's Gate early to grab their spot for the epic firework show over the cliffs.
The water is perfect for ski boats, jet skis and even people on floats, making it a prime leisure location for boating in Texas.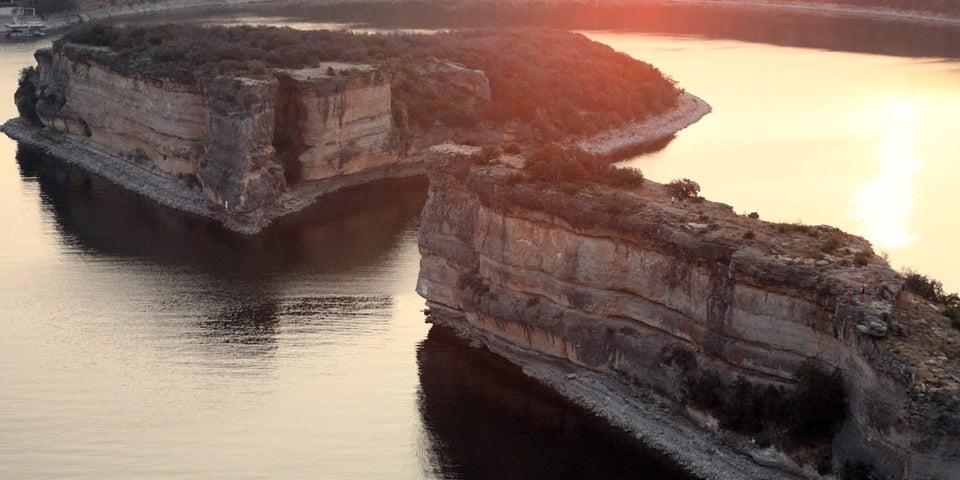 Boating Safety in Texas
While not every boater in Texas requires a boating license, it's highly recommended. In a state with so many boating opportunities and so much deep water, knowing how to boat safely is key to having the most fun you can have. To head out on the water in the Lone Star State, make sure you're prepped.
By taking BOATsmart!'s engaging, fully narrated and animated course, you'll be ready to boat, swim and fish to your heart's content. Just don't forget your life jacket!