New York is a city surrounded by various bodies of water making it a perfect city to spend the day out on the water. Made up by five boroughs, The Bronx, Brooklyn, Queens, Manhattan and Staten Island, this lively city sits right where the Hudson River meets the Atlantic Ocean making boating an epic and visually stunning experience. Boat your way into a  New York state of mind when you step off the dock and onto the water for a day of sun and adventure as you cruise around New York's waterways.
Freeport
The inlets and islands of Freeport are perfect for a day of fishing and boating while you take in the beautiful coastline. Freeport is situated in Nassau County on the South Shore of Long Island. Zach's Bay is southeast of Freeport off the Jones Beach Theatre and is a great place to anchor for families to raft-up and enjoy a concert playing at the theatre or enjoy a day on the beach without the overcrowded feeling.
The Hudson River
The Hudson River offers beautiful scenery along the 300 miles that it stretches. Boaters can escape to the north toward Peekskill where the river offers copious amounts of wildlife. There is abundant largemouth and smallmouth bass around the tributary mouths and in-river structures during the summer and fall. In the spring striped bass can be caught below the Troy Dam to New York City. There are small towns along the river that you can visit, learn the history, stretch your legs and enjoy dinner along the water's edge. Check out one of the only Dock & Dine spots in New York city at La Marina in Washington Heights for a really fun experience!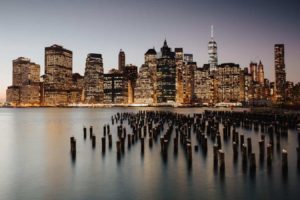 Finger Lakes
This is a region of New York State, known for its lush vineyards and named for its series of eleven long, thin lakes extended like fingers. This is one of New York State's most popular regions for recreational boating with numerous private boat launches to enjoy a scenic route. Take a day trip and explore the Finger Lakes Central Region (the centrally located area found between the two largest lakes; Seneca Lake to the West and Cayuga Lake to the East). These lakes were formed by glaciers and contain over 6.6 trillion gallons of fresh water making it an ideal destination to enjoy a day on the water.
Thousand Islands
If you love fishing, this is the place for you as it has ample fish and fishing holes. With more than 100 boat launches available in the region, this is an easy accessible waterway with much to offer. With it's crystal clear waters, historic castles and lighthouses, it is arguably one of the best places for pleasure boating in New York State.
New York Harbor
Boating by the Manhattan skyline is an experience everyone should have at least once in their lives. There are many attractions such as Governors Island which is a 172-acre island containing Fort Jay, Castle Williams, and Dock 102. Don't forget to stop by Liberty Island, home to the Statue of Liberty  as well as Ellis Island  which is a historical site that opened in 1892 as an immigration station for more than 60 years.
Lake George
This was called "the most beautiful water I ever saw" by Thomas Jefferson and this statement still holds true today. It was once an important fur-trading route and held an important role in the American Revolution with traces of the past laying at the bottom of the lake in the form of shipwrecks. Although a lake that once held a violent past,  today, the coastal shores are full of beautiful wilderness, marinas, restaurants and the Adironack Mountains which add to the astounding atmosphere.
Cold Spring Harbor
This is the perfect place to drop an anchor, enjoy a picnic on the boat and go swimming for the day or head out for a day of water skiing and wake-boarding. This is truly some of Long Islands best boating with a coastline full of beaches, parks and historic mansions. For larger vessels who want to anchor for the day, Eaton's Neck Basin is the perfect place and it's only a few miles east near Huntington Bay.
Whether you're going for an all-day boating adventure to take in the picturesque scenery along the coast, throwing down an anchor to take a dip in the water or stopping along the water's edge to indulge in a scenic meal, New York's waterways offer a vast array of options for any type of excursion. New York's waterways will never disappoint an enthusiastic boater as there is truly something for everyone. Sail through these waters in New York and make memories you will never forget.